Kinect me up
As mentioned before, you have two weapons - purple laser and blue lock-on missiles - and with Kinect you can manage these in one of two ways. The default setup mounts missiles to the right hand and your laser to the left - though there's only one crosshair and so only one weapon useable at a time - while an alternative arrangement changes your weapon as you clap your hand.
Each has its own merits. Neither is perfect, but both will pull you into the game in a way quite unlike if you opt for the control pad, and in a manner which begins to justify that outlay on your Kinect sensor itself.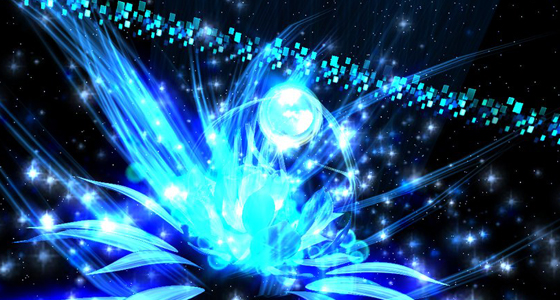 Blue up
Playing through Kinect isn't far off becoming a conductor of sorts with gestures so frantic as to draw parallels to Fantasia's Mickey Mouse, as arms are thrust left and right and even up in the air in unison as the smart bomb-like 'euphoria' attack is unleashed.
While the sensor has on occasion tracked my left hand when it should have tracked my right, the overarching feeling is one of joy rather than irritation, in a similar way to that other Kinect great Dance Central.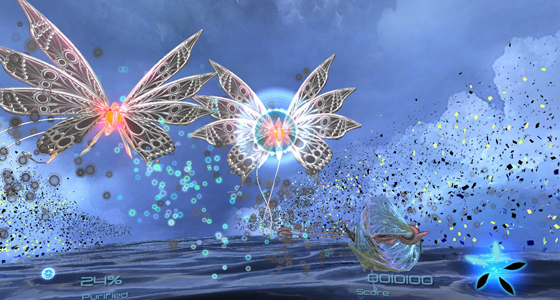 Butterfly spread
Verdict
Child of Eden gets the nod for taking a risk in what is increasingly becoming an industry which deals purely in sure things - witness the recent E3's emphasis on rehashes of existing franchises. By playing to Kinect's strengths, Q Entertainment has developed a truly unique title which marries the best that motion control can offer, within the ultra-immersive confines of a Rez or Flower. Sure, it won't take you forever to complete, but thanks to leaderboards and unlockables, it will take longer to master and, most importantly, you'll be having fun while you do it. ®
More Games Reviews

Alice: The
Madness Returns
Infamous 2
Duke Nukem
Forever
Red Faction:
Armageddon
Hunted:
The Demons Forge
Sponsored: How to simplify data protection on Amazon Web Services

Child of Eden
Orchestral manoeuvres meet new age shoot-'em-up as Child of Eden wages war on the senses. Available on Xbox 360 (tested) and PS3 (coming soon).