Microsoft: 'You can get your data onto Azure for free!'
Getting it off? Not free
Structure Microsoft has announced that beginning on July 1, all data transfers onto its Microsoft Azure cloud will be free.
This will apply to both "peak" and "off-peak" times, the company said with a Wednesday morning blog post.
The change is designed to encourage developers to move large quantities of their own data onto Microsoft's service, but it will also benefit Azure application sthat receive large amounts of data from outside sources.
Clearly, Microsoft is determined to expand the use of Azure. Earlier this week, when we spoke to Microsoft's Windows Azure general manager Doug Hauger, he made a point of saying that eventually all computing infrastructure will "move to the cloud". Though he said that use of the service has exceeded Microsoft's targets, anecdotal evidence suggests that Azure doesn't have the sort of developer mind share enjoyed by Amazon and other cloud services.
Free is always good. But it should be noted that out-bound Azure data transfers are not free. Getting your data in costs nothing. But you'll need some cash to get it off.
Azure is Microsoft's "platform cloud", an online service for building, deploying, and readily scaling applications. A platform cloud – aka platform-as-a-service – operates at a higher level than an infrastructure cloud a la Amazon EC2, letting developers build applications without juggling virtual machines and other raw infrastructure resources.
That said, Azure does offer virtual machines for testing applications, calling them "VM roles", but these only run Windows server.
The Azure pricing change was announced as Satya Nadella – the head of Microsoft's Server and Tools Business – trumpeted Microsoft's service at the cloud-happy GigaOM Structure conference in downtown San Francisco, California, on Wednesday.
Asked to compare Azure to Amazon Web Services and other services, Nadella said that he did not see these as competitors. He called Amazon a partner, though he acknowledged that there are areas where the two services overlap.
Echoing what we've heard from many developers, Nadella said that many Azure applications will also use other cloud services. Devs might use Azure for compute power, he said, but then use Amazon S3 for storage.
He even said that Microsoft is running part of its Windows business on Amazon. "It's not a total one-size-fits-all approach," he said. "My aim is to partner as broadly as possible with many people within the business."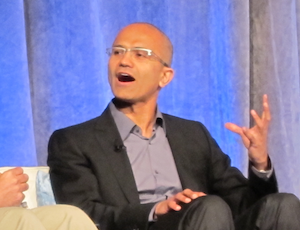 Satya Nadella
Nadella took control of the server and tools group in February, and Azure is a big part of his remit. Microsoft rolled its Server and Tools teams this previous December. Nadella has been with Microsoft for nearly 20 years, and he previously led engineering for the company's Online Services Division.
In addition to offering its own Azure service, Dell, HP, and Fujitsu are working to build their own Azure-based clouds. Fujitsu's service is due to go live in August. Speaking with The Register this week, Microsoft's Doug Hauger declined to say if Dell, HP, or Fujitsu would also sell Azure appliances to third-parties looking to build Azure services in their own data centers. ®