Server admin kit spans heaven and data center
Bladelogic man goes to Scalextremes
---
Scalextreme – the Silicon Valley startup cofounded by the principle architect of Bladelogic – has announced that its browser-based server admin service can now launch virtual machines directly into the heavens.
Still in "preview mode", the company's eponymous service lets you manage machines across both your private data centers and so-called "infrastructure clouds" à la Amazon EC2. And as of Wednesday, you can also use the service to spin up virtual machines on EC2 or any infrastructure cloud based on VMware's vCloud Director platform. "[Scalextreme] marries ongoing system management with system-independent cloud provisioning," CEO and cofounder Nand Mulchandani tells The Register. "You get an end-to-end experience."
In the future, the company plans to offer such server provisioning on other cloud platforms as well, including public services such as Rackspace Cloud Servers and "private cloud" platforms such as OpenStack, Cloud.com, and Nimbula. Every "few weeks", Mulchandani says, the company will tap into the provisioning API of a new platform.
Scalextreme's online service is analogous to those offered by RightScale and Scalr, but as Mulchandani points out, it operates at a slightly different level. Unlike RightScale, Scalextreme is not dependent on the APIs of particular infrastructure cloud services – except when it comes to provisioning machines.
"Once the machine is started up, the orientation we have is that it looks the same as any other machine. We don't care what service it's on. It's treated the same, whatever platform you're looking on," Mulchandani says. To use the service's management tools, you install an agent on each of your servers – both physical and virtual – and whether your machines are in the cloud or down here on earth, the tools operate in the same way.
"A system management tool designed today – 2011 – should not have any bias towards an internal machine or an external machine or a cloud machine. The orientation has to be completely flexible and canonical," Mulchandani says. "We're one of the few products where you can have an Amazon machine and an internal machine or a Rackspace [Cloud Servers] machine, all coexisting and being treated equally."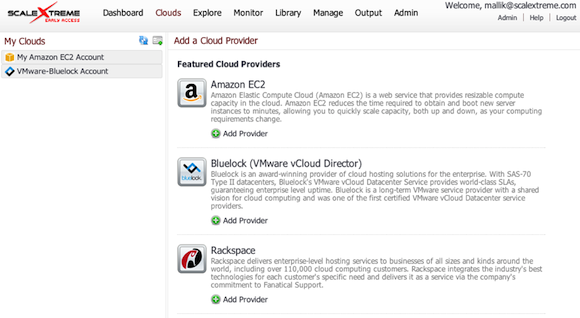 Scalextreme
The Scalextreme setup is reminiscent of Cloudkick, the server admin service recently purchased by Rackspace. Cloudkick began life as a server-monitoring service, but it now handles configuration and inventory duties as well.
Old-school system-management services such as HP's Opsware and BMC's Bladelogic also let you manage machines across earth and sky, but as Scalextreme's other cofounder Balaji Srinivas points out, this typically requires changes to network topology and firewall settings. "You have to allow inbound connections from the outside," says Srinivas, the principle architect of Bladelogic, which was purchased by BMC in the spring of 2008. "This breaks years of work that has gone into the security of the IT model. We can operate without any change to your network topology or firewalling."
Connecting to servers via HTTPS, Scalextreme lets you configure, patch, inventory, and monitor servers, and you can automate tasks. You can manage Linux packages. You can explore a server's file system, registry, and applications. You can copy and diff files. And you can store and manage scripts via the Mercurial version-control system. Soon, Mulchandani says, the service will also let you remotely install packages. And the company is offering an "app store" where admins can purchase and eventually exchange scripts.
Scalextreme intends to charge $150 per server per year for physical and persistent machines, and it will charge by the hour for cloud machines. You can test the service on two servers for free. ®