This article is more than 1 year old
Feds declare victory over notorious Coreflood botnet
Unprecedented take-down gets results
Federal authorities say they have crippled a notorious botnet that penetrated some of the world's most sensitive organizations, thanks to an unprecedented take-down strategy that used a government-run server that communicated directly with infected PCs.
Coreflood, as the network of compromised computers is known, enslaved almost 800,000 machines when the FBI commenced the operation in April. By the second week of June, the number was so small it was barely discernible on a chart the agency submitted in a recent affidavit. In all, computers reporting to the botnet's command and control channel fell by more than 95 percent, an FBI special agent wrote in a court filing.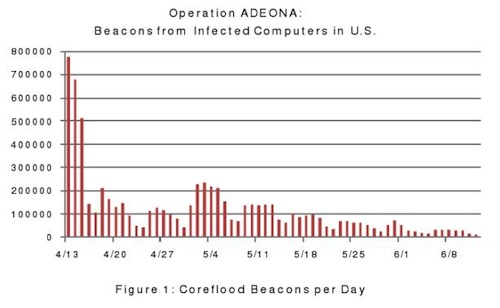 "Operation Adeona," as the take-down effort was called, adopted a novel approach that could become a model for future actions. Most notably, it used a substitute command server that issued "stop" commands to the zombie machines which disabled the Coreflood malware until the next reboot. The operation also called for the government to work with internet service providers to identify the owners of infected machines so authorities could then get permission to permanently zap the malware.
It was the first time US government authorities had ever issued commands to a compromised PC they didn't operate. The action was designed to prevent Coreflood operators from setting up new servers that would resurrect the botnet in the weeks or months following the effort.
Only 24 identifiable victims agreed to let the FBI issue the uninstall command, but the consent still resulted in the instruction being sent to 19,000 computers, Special Agent Kenneth Keller wrote in a declaration filed in federal court last week. None of the machines suffered adverse consequences.
The operation was also novel in the way government authorities worked with ISPs and antivirus providers to identify and disinfect compromised end users. By the end of May, more than 20 of the major AV products detected the latest versions of the Coreflood malware. Combined with the suspension of any new variations that could evade detection, that gave users time to permanently rid their machines of the infections.
As a result, Keller said the FBI wanted to shut down the server used to communicate with infected machines, so the government could direct the considerable cost of running and monitoring it to other endeavors.
"While the Coreflood software will begin to run on still-infected computers once the substitute server is taken out of operation, the seizure of the Coreflood domains will continue reasonably to prevent the defendants from obtaining access to those computers or to data stolen from those computers," he wrote.
Coreflood had infected more than two-million Windows machines since 2002. During and 11-month period starting in March 2009, Coreflood siphoned some 190GB worth of banking passwords and other sensitive data from more than 413,000 infected users as they browsed the net, authorities have said.
The explosive growth in computer-based crime over the past years often leaves the good guys with the sense they're raking leaves on a windy day. Like Microsoft's recent win over the Rustock botnet, the near eradication of Coreflood is a rare exception. Here's hoping they're not the last. ®