Apple Snow Leopard update sets stage for Lion
The install before the install
---
If you plan to install Mac OS X Lion on your Mac when that new operating system becomes available next month, you'll first want to install the latest Mac OS X Snow Leopard update, 10.6.8, which was released on Thursday.
After all, Lion will be distributed through the online Mac App Store, and the Snow Leopard 10.6.8 update adds "Enhancements to the Mac App Store to get your Mac ready to upgrade to Mac OS X Lion," according to Apple's support website.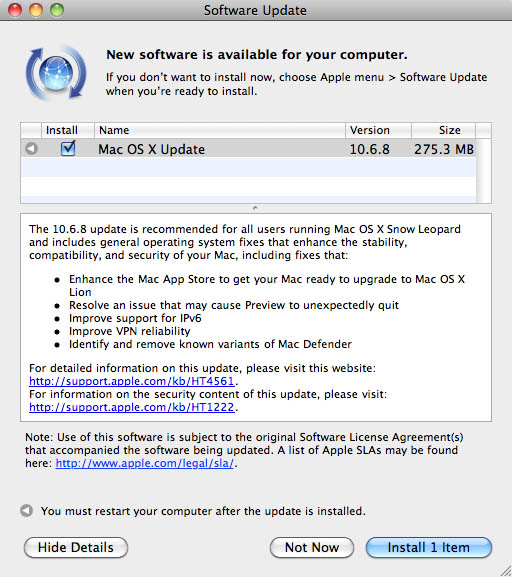 Want Lion? Feed Mac OS X 10.6.8 to Snow Leopard first
In addition to the leonine tweaks to the Mac App Store, 10.6.8 includes improved iPv6 and VPN support, the identification and removal of "known variants" of MacDefender malware, Kerberos authentication to web-proxy servers, additional camera RAW profiles, and more.
And then there's our particular favorite: "Corrects timezone data in iCal for Lisbon-Portugal." Ah, bugs – there's always somethin', eh?
Apple has also released Security Update 2011-004, but as is traditional with Cupertinian security updates, details have not yet been posted on the appropriate web page – but they will be soon.
On both our 11.6-inch MacBook Air and 27-inch iMac, the 10.6.8 update weighed in at 275.3MB — but, of course, your mileage may vary.
Also available are Epson 2.7 and Lexmark 2.5 printer driver updates. In their full incarnations downloaded from Apple's support site, they're 961.5MB and 147.5MB, respectively. But if you install them through Software Update running on your particular system, they're likely to come in at far smaller megabytages. ®