Red Hat: 'Yes, we'll break $1 billion this year'
Rolls in the green
---
Red Hat's top brass talks a good game about being concerned with the global macroeconomic situation, but the truth of the matter is that what Red Hat has is selling despite the economy, or maybe because of it. And all that the world's largest beneficiary of the open source community needs to do is not screw it up and it will break the $1bn mark this fiscal year.
It sure looks like Red Hat is on the way to being the first billion dollar open source baby. In the first quarter of fiscal 2012 ended May 31, Red Hat posted sales of $264.7m, a 26.6 percent increase over the prior year's first quarter and impressive in that the commercial Linux and middleware distributor and cloud wannabe booked the largest deal in its history a year ago. Subscription sales rose by 25.9 per cent, to $225.5m, while training and services sales were up by 30.4 per cent, to $39.2m.
Back in March, when Red Hat reported its financial results for its fiscal 2011 fourth quarter, the company had been projecting that sales would be on the order of $252m to $255m in the May quarter.
Jim Whitehurst, Red Hat's president and CEO, was on a world customer and partner tour and was unable to attend the conference call with Wall Street analysts to go over the numbers. Charlie Peters, the company's CFO, and Paul Cormier, president of products and technologies, handled the call.
Peters said that of the top 25 deals that were up for renewal in the first fiscal quarter, all 25 renewed and did so at a 130 per cent rate compared to the value of their previously inked support contracts. This kind of renewal rate at the Fortune 500 and local, state, and Federal government agencies is one of the key drivers of the Red Hat business.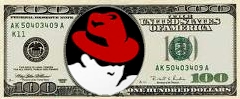 RHEL is close to printing money
Of the top 30 new deals that Red Hat did in the quarter, Peters said that all of them were valued at more than $500,000, and 14 brought in more than $1m. One deal was valued at more than $5m, but did not come close to the eight-figure deal Red Hat landed in Q1 of fiscal 2011. (That deal had to be worth at least 5 per cent of Red Hat's total revenues in the year-ago period, and could have been worth more.) Of the top 30 deals this quarter, a dozen had a middleware component and five of them were middleware-only deals.
Pumped up by the channel
In the quarter, 63 per cent of Red Hat's revenues came from the channel, which is in excess of its goal of at least 60 percent revenue, while 37 per cent came from direct sales. Peters said that if the percentage of indirect sales continues to be higher, the company would evaluate setting the bar higher. This is smart because it shifts a lot of the cost of sales to partners.
By geography, 56 per cent of Red Hat's revenues came from the Americas region in the quarter, with 24 per cent from EMEA and 20 per cent from Asia/Pacific. Interestingly, during Red Hat's fourth quarter conference call back in March, Peters said that the earthquake and tsunami in Japan might cause a $5m delay in bookings during Q1, but as it turned out, Red Hat just kept selling in Japan. Again, we reckon not as if nothing had happened but maybe because something had happened – or more precisely, a mix of the two.
"The company continues to execute well and manage for growth," Peters said on the call. Red Hat Enterprise Linux 6.0, which came out last November and was updated with a dot release this May, was "off to a good start" according to Peters. The company did not elaborate on the number of customers who are using RHEL 6.0 or 6.1, but these releases do not drive revenues directly anyway. And the price hikes that were instituted with RHEL 6.0 will not hit customers until they renew their subscription licenses at some point in the future. "The RHEL business was quite strong," was about all the Wall Streeters could get Peters to admit to.
Looking ahead to the second quarter of fiscal 2012 ending in August, Peters said that sales would be between $270m to $272m, with non-GAAP earnings per share in the range of 24 cents to 25 cents. Guidance for the full year was nudged up by between $15m and $20m, with sales now expected to be between $1.07bn and $1.085bn; net earnings on a non-GAAP basis should come in at between 98 cents and $1, Peters said, which is four pennies higher than projections from three months ago.
Red Hat ended the quarter with $1.27bn in cash and would be wise to make some strategic acquisitions before everyone else snaps up the cloudy bits it needs. A database would be nice, too. ®