This article is more than 1 year old
Google Chrome extension busts Murdoch paywall
Paid interwebs for free
An extension has surfaced in the Chrome Web Store that lets you breach the defenses of one of the web's earliest paywall pioneers.
Read WSJ Extension lets you read full articles from the online version of Rupert Murdoch's The Wall Street Journal, giving you free access to some of media's most coveted paid-for content.
Murdoch inherited the paywall from the WSJ's earlier owners, the Bancroft family, in 2007, and he has since erected similar defenses around his existing stable of titles, including The Times of London and the UK's best-selling Sunday read, The News of the World.
Read WSJ Extension joins A Free Press, which lets you bypass one of the newest paywalls in town, that of The New York Times. The NYT's paywall requires you to sign up once you've clicked your 21st article in one month.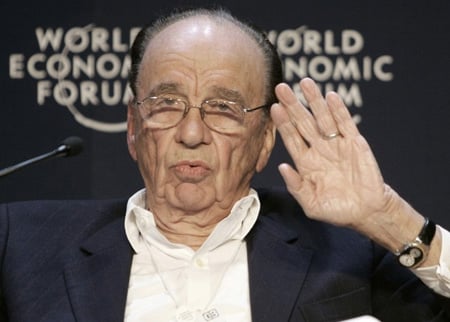 Rupert Murdoch: browser extension challenged
Browser extensions are the easiest ways for ordinary internet users and newspaper readers to tear through such paper defenses. There are other options, but these rely on some knowledge of the browser or of coding, such as turning off JavaScript or hacking CSS.
Yet more options include relying on the shortcomings of the wall's code so you can read individual pieces passed on through services like Twitter. Alternatively, you can simply look for links in the returns of search engines such as Google or Bing, although what you can read is still limited.
With a browser extension, within two or three clicks, you can read what you want to read, –minus the complications or the restrictions.
Another NYT paywall-busting tool called NYTClean is available outside the Chrome Web Store, but it takes a little Googling and knowing what you're looking for to find. App stores and marketplaces make finding apps for a given device considerably easier and less of an exercise in lateral thinking – putting extensions in a marketplace such as the Chrome store makes extensions potentially easier for the ordinary user to find.
A Free Press is the second anti-NYT-paywall extension written specially for Chrome, following the New York Times Paywall Smasher. The fate of that forerunner, though, demonstrates the grey legal world in which such apps operate, and how exposed they can be: Paywall Smasher is no longer available in Google's browser store. It was allegedly removed by Google.
Content providers as app police
When asked, Google did not to comment on why Paywall Smasher was no longer available. "We remove apps from the Chrome Web Store that do not comply with our terms of service," a spokesman told us.
As with the Android market, Google takes a laissez-faire approach to what goes into the Chrome Web Store. Apps and extensions submitted to the Chrome store are run through an automated review process in "real-time", the company tells us. This process, it says, publishes "most" apps and extensions immediately, without manual review.
Google says that if a particular content owner feels that their trademarks or terms of service have been violated, they are welcome to follow the take down–request process detailed in the developer terms of service document. The onus is on the content owners rather than Google to be vigilant. For Google, it's a typical approach.
With Chrome Web Store, Google is hoping to duplicate the success of Apple's App Store, which has racked up 500,000 iOS apps after just three years in operation. The Chrome store has just under 5,000 apps.
Judging by Google's terms of service, there are at least two potential reasons why the NYT and WSJ paywall-busters might upset the papers' owners and potentially share the fate of Paywall Smasher. Google's rules do not allow apps that violate a third party's terms of service, or that infringe on the intellectual property rights or trademarks of others.
The papers are very clear about what you're not allowed to do with their words and pictures. The WSJ's terms of service says you cannot sell, publish, distribute, retransmit, or otherwise provide access to its content without written permission. The NYT has similar rules to protect its content.
'We're in it for the LOLs, honest'
This might explain why the paywall-busters' creators don't identify themselves in the Chrome Web Store, unlike other app authors. Also, they paint their apps in non-commercial colors, so they can't be accused of trying to make money off of somebody's copyrighted or trademarked work.
Text accompanying the Read WSJ Extension tells us: "This is just a fun side project with absolutely no commercial motivations." A Free Press' write-up says: "A Free Press focuses on improving the web accessibility of certain news websites so that visitors can more easily enjoy the news content that is downloaded to their browser. No copyright infringement is intended; for educational purposes only."
What happens next appears to be in the hands of the NYT and WSJ, as it looks like it is the papers' responsibility to complain to Google, should they feel violated. That won't settle things, however. The fact the New York Times Paywall Smasher is survived by two paywall-busting plug-ins demonstrates that the willingness to build more for these and other titles is there. And as we know, developers are an awfully resourceful, motivated, and "idealistic" bunch.
With more paywalls going up – yes, The New York Post is another Murdoch title – Google might be forced by frustrated "old media" tycoons like the Dirty Digger to become less hands-off and more proactive in policing its browser's app store. ®