This article is more than 1 year old
Mac OS X 10.6.8 hails from Paleolithic era
Update teething troubles unearthed
Ask any seasoned Mac user and they'll tell you to avoid using Software Update incremental download delivery approach for systems instals, but to use the standalone combo option every time.
Yet even seasoned Mac users get lazy and Apple wants us to adopt this click-and-hold-your-breath delivery system. Indeed, this is how its next system upgrade, Mac OS X 10.7 Lion will arrive on the majority of Macs.
So on a Friday afternoon at Vulture Central, the Software Update quick fix to instal Mac OS X 10.6.8 seemed innocuous enough. It had worked fine for the boss, so...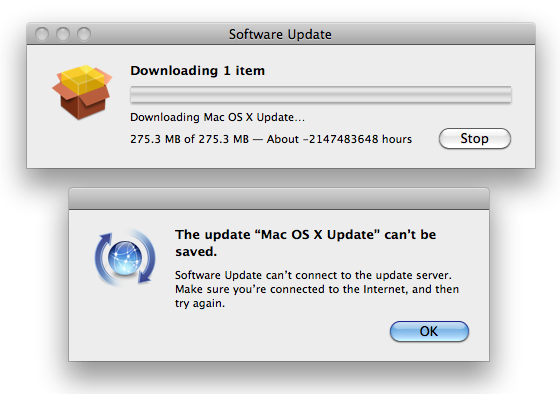 The first try produced a message that the update couldn't be saved. Yet curiously in the background, it appeared this had already happened. A negative figure revealed that some 2147483648 hours passed since that update had made it home. That's about 245 thousand years ago, so we're in the Paleolithic era. Funny, after all the noise about the launch of Final Cut Pro X, I thought Apple was working on purging its old code.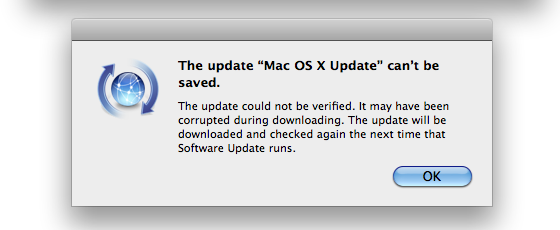 Back in the present, I gave it another go. Same thing, same numbers too. The best of three then? Why not? Ah, now we're getting somewhere: "The update could not be verified..."
Dodgy downloads, apparently. Incidentally, a feature of this update is "to get your Mac ready to upgrade to Mac OS X Lion." Come on, guys, let me buy a disc, please.
At this point, the wise combo update approach was revisited, downloaded and installed with no funny business. Well that's a lie, actually. On restarting, the screen went black and a long wait ensued with nothing happening. Powering off and then powering up brought up a series of seemingly false starts before faith was restored... that is until Lion appears in the wild. ®