After one of Mozilla's core employees said that the open source outfit is not concerned with enterprise customers – and likely never will be – Microsoft's Internet Explorer team has jumped into the breach to proclaim its undying love for the enterprise.
With a blog post, Microsoft re-committed itself to providing support for Internet Explorer 8 and 9 until January 2020, taking aim at Mozilla's insistence that it will not support preceding versions of Firefox as each new edition ships.
Microsoft IE director Ari Bixhorn said that he's perplexed – perplexed, I tell you – by Mozilla's stance. "[The] enterprise has been, and will always be, an important focus of ours," he wrote, pointing to Microsoft's policy of supporting each version of IE as long as the latest version of Windows it runs on is supported.
The just-launched IE9 and the older IE8 run on Windows 7, and the enterprise edition of this Microsoft operating system due to be supported until January 2020. This is the outer-most limit of Microsoft's support – a phase called "extended". It is not "mainstream" support. You can read about the differences between the two here.
Earlier, Mozilla's Asa Dotzler asserted that Firefox has never – and should never – care about enterprise customers on Firefox. Dotzler founded Mozilla's Quality Assurance (QA) and Testing Program, and he was part of the original Firefox team.
Mozilla: Not in the business of business
Dotzler made the statement in response to corporate IT type John Walicki, who criticized Mozilla's decision to kill support for Firefox 4 last week, just as it introduced version 5. Firefox 5 is the first version of Firefox developed under Mozilla's new Google-inspired three month release cycle. Firefox 4 only debuted in March.
In a post to a website called Mike's Musings, Walicki said that when Mozilla announced the end of Firefox 4 support, he was about to press the button on moving 500,000 corporate users to the browser. "The Firefox 4 EOL is a kick in the stomach," he said. He had spent months carefully testing the browser to ensure that thousands of web applications and add-ons ran on it.
Such testing is an essential part of rolling out new versions of any major piece of software inside a big business. This is why so many businesses are still clinging to really old applications like Microsoft's IE6 - a browser that even Microsoft has been campaigning to kill.
But Mozilla's man would not be moved. In a comment to Walicki's post, Dotzler said:
Mike, you do realize that we get about 2 million Firefox downloads per day from regular user types, right? Your 'big numbers' here are really just a drop in the bucket, fractions of fractions of a percent of our user base.

Enterprise has never been (and I'll argue, shouldn't be) a focus of ours. Until we run out of people who don't have sysadmins and enterprise deployment teams looking out for them, I can't imagine why we'd focus at all on the kinds of environments you care so much about.
He was taken to task by the Mike of Mike's Musings – blogger Mike Kaply – for "playing the market-share card". But Dotzler did not retreat. He re-loaded:
Years ago, we didn't have the resources. Today, I argue, we shouldn't care even if we do have the resources because of the cost benefit trade. A minute spent making a corporate user happy can better be spent making many regular users happy. I'd much rather Mozilla spending its limited resources looking out for the billions of users that don't have enterprise support systems already taking care of them.
Dotzler made it clear that Mozilla is going to keep right-on releasing new versions of Firefox and end-of-lifing the version before. Not the kind of thing Mozilla fans want to hear when they're working in the slow-moving world of the enterprise, where the pace of testing will likely mean that by the time you've finished, Mozilla has already killed the platform you've targeted.
Mozilla stands firm
As Walicki said in the comment that ignited Dotzler: "I'm now in the terrible position of choosing to deploy a Firefox 4 release with potentially unpatched vulnerabilities, reset the test cycle for thousands of internal apps to validate Firefox 5 or stay on a patched Firefox 3.6.x."
Mozilla is not distancing itself from Dotzler. Asked by The Register for a response, Mozilla released a statement it attributed to channel manager Kev Needham that talked in terms of how Firefox needs to evolve and how – by releasing "small, focused updates more often" – it can update and improve security and add new features.
"Our development process is geared toward delivering products that support the Web as it is today, while innovating and building future Web capabilities. Tying Firefox product development to an organizational process we do not control would make it difficult for us to continue to innovate for our users and the betterment of the Web," the statement said.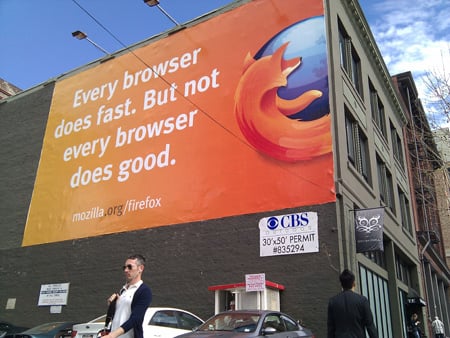 Mozilla's message
Microsoft's Bixhorn wasted no time in landing the first in what's sure to be a tirade of punches on Mozilla, telling John Walicki: "I think I speak for everyone on the IE team when I say we'd like the opportunity to win back your business. We've got a great solution for corporate customers with both IE8 and IE9."
Microsoft needed a way back into the fight. IE8 grew slowly, and it has now started to see its market share slip backwards, failing to arrest IE's overall market-share drop. With IE9, Microsoft has finally embraced open standards such as HTML5 and JavaScript. But Microsoft refuses to put IE9 on Windows XP, which still sits on nearly half of PCs. This has been an easy target for Mozilla.
And in the San Francisco Bay Area, Mozilla has been posting billboards alluding to Firefox non-profit sensibilities and the "do-not-track" privacy header it just added to the browser. This has been another easy hit for the open source outfit, with Microsoft caught between satisfying the interests of advertisers and meeting the privacy concerns of its end-user customers.
Now, predictably, Microsoft is hitting back. ®