Three directions for the enterprise flash industry
Basile reckons the enterprise flash industry can go three general ways. One option is that the existing storage suppliers "leave it alone and new giants emerge, like Cisco did in networking".
A second possibility is that existing NAND "suppliers in the industry come and buy up-stack." He likens this to what Intel has done, moving up stack from processor chips to chipsets and on to motherboard design: "Fundamentally most server IP today is all Intel. It's especially so with Sandy Bridge."
Basile pointed out: 'Intel has always failed on the system side. It's fundamentally a semi-conductor side company." So it's unlikely to become a server company.
The third way is for storage-supplying systems companies to buy down-stack: "But storage guys never do vertically integrate downwards." EMC and NetApp, for example, haven't bought disk drive suppliers. The systems mindset is completely different from the component mindset.
Basile hasn't seen much innovation inside storage array suppliers: "The main storage vendors took out innovative newcomers, like 3PAR and Compellent. … They didn't innovate in-house. They bought IP instead." It seems to us, after talking to Basile and Stephen O'Donnell, a Violin Industry Advisory Board member, that they think the main storage suppliers are unlikely to buy a memory array competitor because its technology competes with their own.
Storage suppliers like EMC, Dell and NetApp are putting array-controlled flash in application server arrays though. Why? "They can't eat their own baby food," is what O'Donnell thinks. They want their spinning disks to keep feeding data to app servers and not be relegated to tier 2 storage duties, feeding silicon storage instead.
Violin's strategy
The Violin strategy is to focus on building network-accessible, low-latency, high IOPS silicon storage arrays, riding the flash technology development curve, particularly 3-bit MLC, and sell to the global 2000 enterprises through a combination of OEM and distribution/reseller channels.
Basile said: "We focus on delivering highest I/O at lowest cost with the most reliability. We should emerge as one of the winners. It's not an uphill sell, it's a downhill sell."
El Reg understands that a likely next-generation product from Violin may arrive in the fall, in autumn, and do two million IOPS from a 2-3U enclosure.
For a flash storage company to emerge and stand alone it has to achieve escape velocity from the main server system and storage array vendors. It has to do what Connor Peripherals did in disk drives, NetApp in filers and Cisco in networking. The technology has to be difficult to emulate, the technology disruptive to existing suppliers and hence unattractive to existing product line bosses, and the marketing and channel strategy effective.
Basile says that Violin's "billion dollar revenue will come from channels, both OEM and resellers. … Connor went from zero to a billion in four years. … There needs to be a distribution channel with an OEM one."
"We want to achieve a billion dollars in less than 4 years. It's possible."
"We're focussed on the global 2000 and verticals; Internet. financial services, and government. All of them are moving into data analytics and computing on that data faster and faster. They collectively spend $1.3 trillion a year on IT. It is not that hard from that point of view to extract a billion dollars of revenue."
He says that there is no way spinning drives can service their compute needs in the future; "Latency is the critical factor."
Yes, Violin is a start-up and relatively unknown, but "we have a partner next to us - HP - taking out the brand risk".
The opportunity is increased because "Every disk array in existence will go end-of-life in 36 months and need replacing. Your storage comes off cycle/maintenance in that time frame." They have to be replaced.
Violin, Juniper and IBM
Violin is working with Juniper, and has an investment from that company, because there is a good marketing fit between their two strategies.
Basile characterises Juniper's QFabric as a network that can deliver deterministically low-latency, non-blocking traffic, and can scale. You can put a flash array, clustered servers and the QFabric together and arrive at an optimal data centre scale architecture, with linear scalability of compute and I/O.
He says that Violin's memory array is fundamentally a networking device needing a network to connect to servers. This could be HP's vConnect backplane in a bladed server system or QFabric at a data centre level.
Juniper will ship QFabric in the fall, with Violin Memory arrays to drive traffic through the network.
Basile said Violin is also working with IBM and its General Parallel File System (GPFS): "We will make GPFS extremely fast and high performance, modifying 10 billion files in 42 minutes. … With two 2-racks it will modify a trillion files in 3hours … sharing a single global namespace.We worked with GPFS for over a year to make this possible and achieve linear scalability. Both meta data and bulk data are stored on Violin's arrays with GPFS backing off trash to other storage. It will completely change the way people build storage pools.
Back to the turtle
Basile said: "Ellison's Turtle speech changes everything. How do you not buy memory arrays to run Oracle solutions?" For both server system and storage array suppliers the questions becomes "How do we turtles transform ourselves into Oracle-chasing cheetahs?"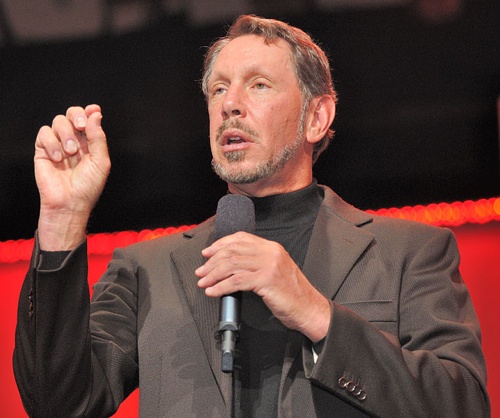 Oracle CEO Larry Ellison
HP and IBM are doing it with Violin. Fusion-io no doubt has its main server partnerships working to the same end. But which way will Tucci and Gelsinger at EMC jump? What will Georgens at NetApp do? Will these two storage bellwether companies collude in the destructive downgrades of their own HDD array products by investing in memory array technology?
Imagine a Violin-assisted integrated HP stack competing against a vBlock with no front-end flash array; the HP system will likely blow the vBlock away on price/performance at a transaction level - remember the RamSan-630 SPC-1 benchmark mentioned above?
Imagine an IBM SONAS flash-assisted scale-out filer competing against a NetApp filer or EMC VNX or Isilon system. Big Blue will walk all over EMC and NetApp in that instance.
The import of Violin CEO Don Basile's thoughts, if they are correct, is that EMC, NetApp, and every other enterprise storage array supplier has to embrace solid state array technology and see their HDD array business become less and less important.
They will see this outcome whether they embrace memory array technology or not. If they do embrace it then they become players in a high-growth market and will still have growing businesses.
If they don't, they will be legacy players in what will become a low-growth market, possibly a no-growth market - if Basile is correct. That is a real big "if".
Is he making sweet music, then, or just making screeching noises? That's what Gelsinger, Tucci, Georgens and other server system and storage arrays bosses have to decide. ®