All aboard the flash array train?
Tickets please, storage vendors
---
Comment A flash train is thundering down the track, coming right at the storage array vendors. Will they step aside, get run over, or leap aboard?
About 18 months ago the competitors were Nimbus, a start-up, and Texas Memory Systems (TMS) and Whiptail, all offering all-flash memory arrays. Now these have been joined by Solid Access, SolidFire and Violin Memory Systems. What other start-ups are coming?
We're told 3-bit multi-level cell (MLC) flash will arrive next year and have solid endurance and good performance, bringing the cost/GB of flash nearer to the cost/GB of fast disk. Add in compression and dedupe and that cost comparison becomes more favourable to flash.
Look at costs from a cost/IOPS viewpoint and flash could trounce disk. It looks as if all-flash arrays are to become the primary active data store for apps that need IOPS, replacing drive arrays.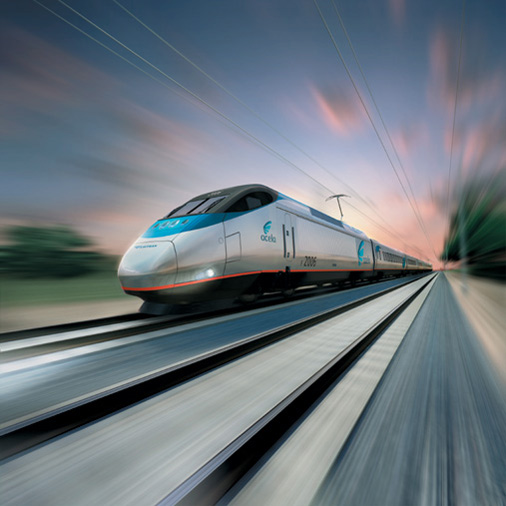 The flash train; an Amtrak Acela train on a Northeast Corridor track (Amtrak)
The niche market centred on in-memory database systems is going to open up and spread right across the IT-using spectrum so that groups of multi-CPU, multi-core servers running virtual machines and accessing shared storage will access flash storage.
It will be affordable enough to do that: its electricity costs will be far below that of an equivalent IOPS-level drive array, its floor-take up will be minimal, and its operational costs probably less as well.
Here's the score: flash will be the new disk. Disk will be the new tape. Tape will just stay tape; it isn't going away, with its archival costs lower than disk.
Customers will want all-flash data stores holding their most active data, when flash is cheap enough. Then they will want a backing store for nearline data and they will want an archive for cold data. Those three use cases can be satisfied by a flash array, a disk drive array and a tape library. The latter two could be located in the public cloud.
Grandmaster flash
What should the disk drive array vendors do, if this scenario plays out?
They should buy in or develop their own all-flash array technology. Having a tier of SSD storage in a disk drive array is a good start but customers will want the simpler choice of an all-flash array and, anyway, they are here now. Guys like Violin and Whiptail and TMS are knocking on the storage array vendors' customer doors right now.
There is credibility in offering a tier of all-flash storage resource inside a disk drive array but it takes time to build and it looks complex with all the data movement across multiple tiers and protection arrangements involved.
What the disk drive array vendors - Dell, EMC, Fujitsu, HDS, HP, IBM, Nexsan, Oracle, Pillar and others - should do is offer their own all-flash array products. If they don't then the flash array vendors could become as pervasive as filer companies became in the 90s. An all-flash array NetApp-like platform supplier could emerge.
Isn't it blindingly obvious that mainstream storage array vendors have to offer all-flash array products or else stand by and watch their disk-based products degrade into second-tier storage resources acting as backup to the flash array suppliers?
The mainstream vendors have to buy in to this market and its technology or develop the technology in-house. It's buy or build time all over again.
Will they do it? Will they build or buy technology that puts their main product lines on notice, that tells customers the future is, for example, Flash and not FAS?
Violin Memory CEO Don Basile says Cisco emerged as a networking platform company because the existing suppliers let it. NetApp emerged as the filer platform company because the existing storage vendors let it.
Are the existing storage vendors going to let flash array suppliers grow and achieve escape velocity, and start destroying their role as suppliers of active data storage facilities?
History says they will. But David Donatelli, David Scott, Pat Gelsinger, Tom Georgens, Mike Workman, Steve Sicola, Darren Thomas, Phil Soran and their equivalents in other companies are whip-smart people, and see where Larry Ellison is going.
Ellison is going for flash - remember last January's turtle presentation and his SuperCluster? Oracle is well on the way to supplying all-flash arrays to speed up its system and application software. HP is working with Violin Memory to respond to this.
How serious is it? What will the other storage array suppliers do? Will they focus on incrementally improving disk-based array products and keeping the quarterly results trend on track with no risk to it from anything flashy, or will they seize the day and go for flash?
They can ignore flash arrays, build their own, which takes time, or pony up the dollars to buy their way in. Fusion-io's IPO set a bar here, with that company getting valued at over a billion dollars, and the VCs getting a return in the hundreds of millions. ®