Fusion motherboards beat AMD chips to market
Asus, MSI, Gigabyte leap on APU bandwagon
---
AMD's desktop-bound A-Series Fusion APUs (accelerated processing units) haven't yet officially hit the streets, but that hasn't stopped manufacturers from punting motherboards intended for them.
Asus, MSI, and Gigabyte have each announced mobos based on AMD's A75 chipset (née Hudson D3), with FM1 sockets ready to accept AMD's A-Series CPU/GPU mashups, formerly codenamed Llano.
Last Friday, Asus announced its F1A75 Series motherboards for AMD's new A6 and A8 APUs. In roughly a descending order of capabilities, they're the F1A75-V EVO, F1A75-V PRO, F1A75-M PRO, F1A75, F1A75-M, and F1A75-M LE.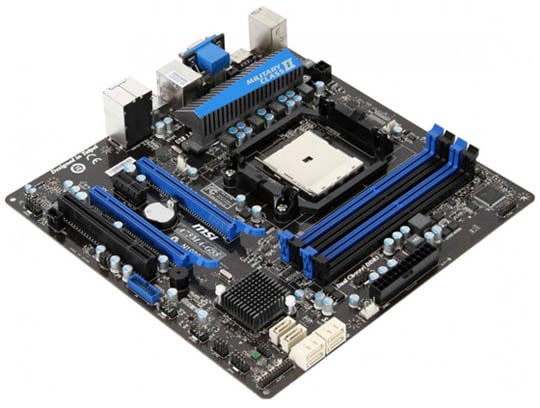 MSI A75MA-G55 socket-FM1 motherboard for AMD A-Series APUs (click to enlarge)
On Monday, MSI announced its "Military Class II" microATX mobo for the AMD A-Series, the A75MA-G55, which includes the company's Linux-based Winki 3 operating system, which – like Asus Splashtop – is a bare-bones, quick-booting system with limited capabilities. But, hey, it's free.
And then there are Gigabyte's quartet of socket-FM1 mobos: the ATX GA-A75-D3H and GA-A75-UD4H, and the microATX GA-A75M-D2H and GA-A75M-UD2H.
An AMD spokeswoman told us that the A-Series APUs will be avalable "in early July" – but with motherboards already appearing and soon to ship, our guess is that "early" means quite early, indeed. ®
Similar topics
Narrower topics