Oracle is struggling a bit with its hardware business right now as it pares down the Sun server and storage business to be a less complex line with more profits. But don't get confused. The software giant and server maker is very much committed to have x64 gear in its lineup to prop up both Linux and Solaris workloads. Especially big, fat boxes for supporting Oracle databases or virtual server slices.
The new Sun Fire X4470 M2 server is the latest in chubby Xeon servers from Oracle. The company quietly killed off its Opteron-based servers a year ago. So there are no fat Sun Fire machines using Advanced Micro Devices' "Magny-Cours" Opteron 6100s and unless something dramatic changes, like Oracle buys AMD on the cheap, there will not be any Oracle machines later this year using the "Interlagos" Opteron 6200s, either.
The X4470 M2 is a four-socket server sporting Intel's latest "Westmere-EX" Xeon E7 processors, specifically the E7-4800 models designed explicitly for machine with four CPUs. The X4470 M2 is a 3U rack server and it comes with either two or four Xeon E7s and has 16 memory slots per CPU socket, for a total of 64 slots.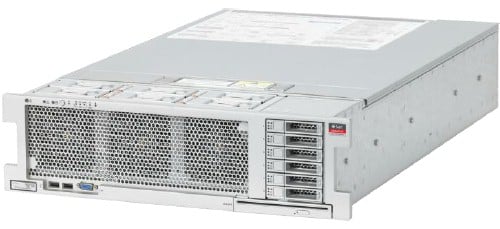 Oracle's Sun Fire X4470 M2 server
The server supports 4GB, 8GB, and 16GB memory sticks, so the box tops out at 1TB. The interesting bit is that the new "Millbrook2" memory buffer chips allow a four-socket Xeon E7 machine using Intel's companion "Boxboro" 7500 chipset to scale the box up to 2TB of maximum main memory.
The new Millbrook2 memory buffer also allows for low-volt (and cooler) 1.35 volt DDR3 memory to be used as well as standard 1.5 volt sticks. The Oracle spec sheet for the X4470 M2 does not detail what memory is used in the box, but the fatter memory and low voltage parts are inherent in the Intel chipsets.
Oracle puts four Gigabit Ethernet ports on its Sun Fire servers, as Sun Microsystems did for years, as well as a 100Mbit Ethernet port for plugging into the Integrated Lights Out Management (ILOM) service processors for remote system management. The Sun Fire X4470 M2 has ten PCI-Express 2.0 slots in two different configurations: two x16m four x8 and two x4 slots or eight x8 and two x4 slots.
The machine also has five USB ports and six 2.5-inch hot swap disk bays in the front; Oracle supports SAS-2 or SATA-II drives, and depending on the features installed, can support RAID 1, 5, 6, and 10 data protection schemes. The machine can also support up to four Sun F20 flash accelerator PCI-Express 2.0 cards. This flash card has 96GB of capacity and can process over 100,000 I/O operations per second; it costs $4,695.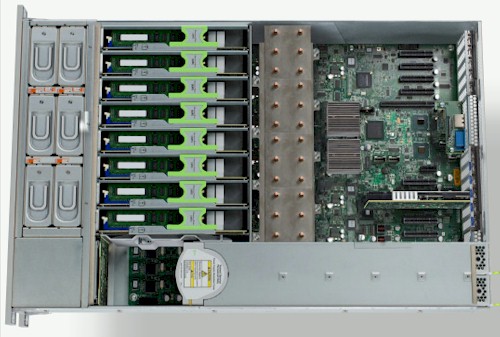 Internal view of the Sun Fire X4470 M2
On the software front, Oracle is supporting its own Solaris 10 (09/10 release) Unix variant as well as its variant of Red Hat's Enterprise Linux (Oracle Linux 5.5) on the new Sun Fire server. Red Hat Enterprise Linux 5.5 and 6.0 and SUSE Linux Enterprise Server 11 SP1 are also supported on the box, as is Microsoft's Windows Server 2008 R2.
For server virtualization, you can use Oracle's Xen implementation, Oracle VM 2.2.1 or VMware's ESXi hypervisor (Oracle did not say what release in its support wiki.) Oracle has been very clear that Oracle Linux, Oracle VM, and Solaris have been "optimized" for the new server, but is not explicit about precisely what that means.
In a base configuration, a Sun Fire X4470 M2 comes with two 2GHz Xeon E7-4820 processors, which have eight cores per chip; the base machine is configured with 32GB of memory and no disks, and costs $12,020. With four 2.26GHz, ten-core Xeon E7-4860 processors, 128GB of main memory, and two 300GB SAS disks, list price is $35,675. Push the processors up to 2.4GHz E7-4870 (with ten cores), 512GB of main memory, and six 300GB disks and the price tag jumps up to $58,615.
Some storage on the side of that Sun Fire?