This article is more than 1 year old
Boffins take REMOTE CONTROL of HUMAN HAND
Science out on a limb
Now that pacemakers are to be loaded with firewalls and bionic-man body parts are appearing on production lines, the concept of body hacking has become a spooky possibility. Researchers in Japan have begun to try to teach people how to play instruments by remotely controlling their hands.
Developed by the University of Tokyo and Sony Computer Science Labs, the aptly named PossessedHand stimulates muscles that move our digits, New Scientist reports.
A belt with 28 electrode pads is strapped to the arm, sending signals to the joints between the three bones of each finger, with two for the thumb.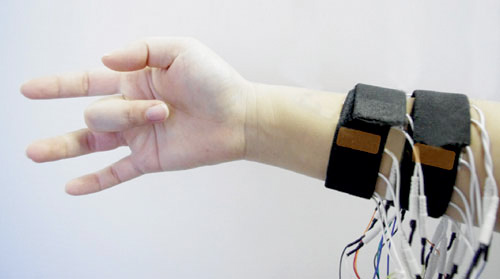 Beast with five fingers
Taking things further, the team then tried to teach the wearer how to play a musical instrument. As it uses all five fingertips, a koto, 13-string Japanese instrument, was chosen and finger movements were programmed into PossessedHand.
While the force generated isn't enough to make the human hand pluck, the motions are certainly felt by the wearer and, it's thought, can be used to train them into making the correct finger movement. Unlike past attempts at this sort of thing, which involved embedding electrodes in the guinea pig's flesh, this new approach is not only doesn't involve basic surgery but is more accurate too.
Test showed that players who were trained using PossesedHand made fewer errors when playing unassisted than other learners made.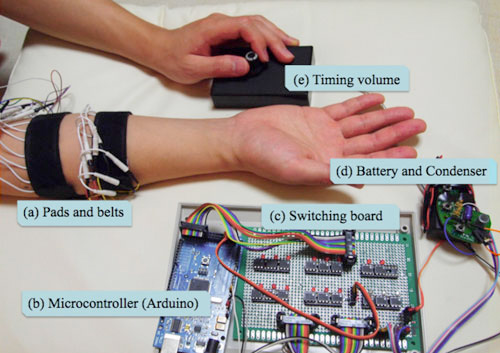 The test subjects felt rubbed up the wrong way though and called the experience unpleasant, almost as if their bodies had been hacked. Did they not read the smallprint?
It's a bit too Matrixy for me, although if I could be programmed to get all Satriani with my Ibanez, you wouldn't see me hit out against it. Not that I'd have the control to do so. ®