Activations of Android-based devices now exceed half a million per day, and are growing by 4.4 per cent each week.
This news comes via a triumphal Tuesday tweet from no less an Adroidophile than Google's mobile headman Andy Rubin.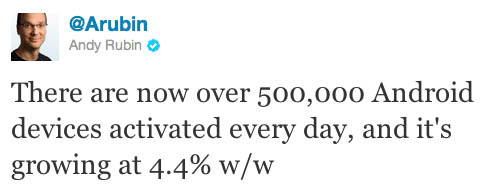 It's instructive that Rubin's tweet referred to "Android devices". Last December, the rarely tweeting Googler informed the world that "over 300,000 Android phones" were being activated daily. Tuesday's half-million figure presumably includes not only phones, but also tablets and devices lumbered by running Google TV, which is based on Android.
We're betting that out of that half-million, the vast majority remain smartphones. Android has hardly taken the tablet world by storm – that market remains dominated by a certain Cupertinian fondleslab.
That said, there have been some contributions from that tablet world – Samsung's Galaxy Tab and the Motorola Xoom, for example – although the latter has not exactly set the world on fire.
Both of those tablets run Android's tablet-centric Honeycomb incarnation, as do the LG G-Slate, Acer Iconia Tab A500, and Asus Eee Pad Transformer – but those three haven't been available long enough to contribute materially to the half-million milestone. Or, for that matter, to bite into the iPad's lead.
In addition, Google has cramped Honeycomb's rise by delaying its open sourcing until the end of this year – the same time target as the release of its next Android version, "Ice Cream Sandwich", which Mountain View says will be a tasty treat for phones, tablets, Google TV, and any other Android devices that might pop up by that time.
In the smartphone arena, analysts at the NPD Group point out that Android's market-share momentum – once going gangbusters – is beginning to wane in the US, perhaps as a result of the iPhone 4's expansion to Verizon.
But there's more than enough growth in the worldwide smartphone market to make up any US slippage. IDC, for example, estimates that worldwide smartphone growth will surge by 49.2 per cent in 2011.
That's more than enough growth to support a few more celebratory Rubin tweets as the year progresses – and it also doesn't hurt Android's growth prospects that RIM and its BlackBerry are imploding. ®