Arkeia bigs up sliding windows dedupe
Anything you backup I backup better
---
Comment Privately-owned Arkeia thinks it's in prime position to backup to the cloud because its dedupe technology is better than anybody else's.
Arkeia says its dedupe is up to twice as good as Symantec's Backup Exec 2010. It has a slide (pictured) showing it providing a better than 50 per cent size reduction in Excel documents and PowerPoint files running on a physical server, compared to BackupExec's approximate 25 per cent reduction in size.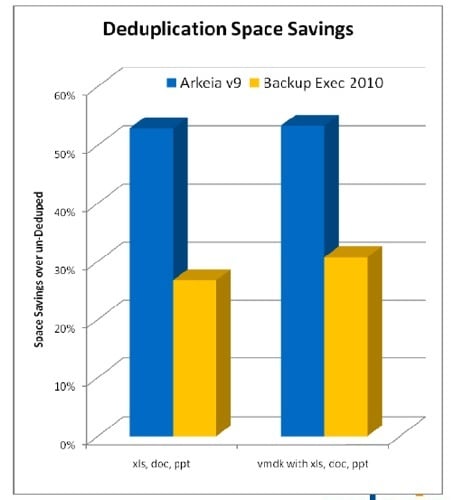 Dedupe efficiency: Arkeia backup vs Backup Exec (Arkeia chart)
The slide also compares the two products deduplicating a VMDK file containing the same kind of data files. Backup Exec almost achieves a 30 per cent data reduction whereas Arkeia's dedupe does 51-52 per cent.
How come it's so much better? We wrote about this Kadena-sourced sliding-window dedupe back in October last year. Now Arkeia has come up with performance comparisons to prove its claims that "Kadena is the next generation of dedupe," in CEO Bill Evans' words.
In a briefing session today, Evans says that customers benefit in two ways. One is that the storage they need to hold deduplicated backups is smaller but the savings here are eclipsed in Evans' view by the network savings. Backups complete in a shorter time and the time needed to transit a network to the dedupe target device is lessened.
He reckons that backup's future is backup as a service provided by cloud service suppliers. They will need backup software or appliances deduping customers' data before it is transmitted across the network and here sits Arkeia, with the best deduplication technology, bar none.
Evans believes that as cloud becomes the backup target then network bandwidth and time needed for the network transit will become more and more important.
The company has no plans to offer Wide Area Networking optimisation technology, reckoning it gets sufficient data reduction benefits from its deduplication technology so as not to need the relatively small improvement that would come from WAN optimisation. Evans sees no way Riverbed can effectively compete.
Evan's target market is medium businesses, not the complicated, large scale enterprise market served by NetBackup on the one hand or the PC-level backup market on the other. He thinks Arkeia has a terrific opportunity with backup to the cloud and sees it as Arkeia's growth trigger. ®