Google Apps v Microsoft Office 365: Rumble in the enterprise
To web or kinda sorta to web
Review Microsoft's Office 365 has come out of beta. But does it have what it takes to counter Google Apps?
Office 365 has four cloud-hosted components: Exchange, SharePoint, Lync, and Office Web Apps, which you can use to access the other three from a browser. The addition of Dynamics CRM (Customer Relationship Management) is planned. Some editions include a subscription to Microsoft Office Professional Plus – a version of Microsoft's classic Office desktop clients – but whether or not it is included, the great majority of users will need Office installed locally.
Never a company to keep things simple, Microsoft has come up with a range of plans, grouped into educational, small business, and enterprise families. There is also a kiosk plan, for users without a dedicated computer. Prices range from $4.00/£2.60 for a kiosk user with Exchange and SharePoint, to $24.00/£15.75 for an enterprise user including a desktop Office license and Lync Plus for voice communications, though this last must be implemented on-premise.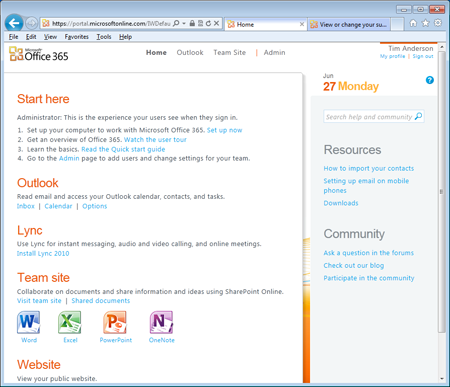 The Office 365 portal is clean and well designed
So how is it? I have been trying the beta, and it has mostly worked as advertised. The heart of Office 365 is Exchange and SharePoint, the deal being that you get these in a standard configuration on a multi-tenant basis. It makes sense for both large and small organizations that want to stay with Microsoft's platform, like the idea of retiring their Exchange and SharePoint servers in favor of a hosted solution, and can accept that their data is snuggled alongside that of other multi-tenant customers (unless you are Very Large and can negotiate with Microsoft for dedicated hardware). Small businesses may even manage without a server at all.
Setup and administration is done primarily through an online console, which is nicely done though migration can be complex. Most actions can also be done on a command line with Microsoft's scripting platform, PowerShell, and some features require this.
It is soon apparent that Office 365 is a hybrid solution, in contrast to Google Apps, which is native to the cloud. Each Office 365 user, other than kiosk users, must configure their PC with a desktop setup wizard that configures Office, adds a shortcut to the Office 365 portal, and installs a sign-in assistant as a service so that users are automatically authenticated.
It is all reassuringly familiar to Windows admins, with everything that implies. Here are a few observations based on use of the beta.
First, note that Office Web Apps – one of the points of differentiation between Office 365 and its predecessor BPOS (Business Productivity Online Suite) – is not suitable for any more than light editing in the browser. Users will still need Office in most cases, as you would expect.
Second, there is a problem with the Professional/Small Business plans, which are those with a "P" designation. These plans do not support SSL access to SharePoint. According to product manager Mark Kashman:
We made this decision for simplicity and usability. In SharePoint Online for small business, there is user name & password protection security for intranet level team site(s). Per the early feedback we are receiving, Microsoft is in design planning to bring https:// to the SharePoint Online for small business offering in a future update.
Although authentication is done through a secure connection, this is a security weakness and a good reason to choose one of the enterprise plans instead.
Third, SharePoint Workspace, which is meant to let you view and edit SharePoint documents offline and synchronise them later, is poor both in usability and functionality.