Boffins triple battery life with metal foam
Power pores pump Lithium-ion
---
Japanese researchers have developed a new material they estimate can triple the capacity of lithium-ion batteries.
The breakthrough comes courtesy of Sumitomo Electric Industries, which has set up a "small-scale production line" at its Osaka Works R&D center to produce the battery-boosting material, which they call "Aluminum-Celmet".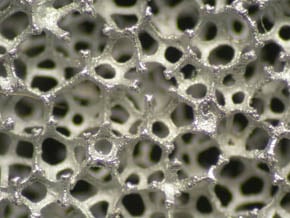 Plenty of power-packing pores (click to enlarge)
What gives Aluminum-Celmet its ability to be the basis of highly efficient batteries is its extreme porosity – up to 98 per cent. When used as a replacement for the aluminum foil anode in a secondary – rechargeable – lithium-ion battery, that porosity allows for the battery to contain a significantly larger amount of the lithium compound that contributes its ions to the electrical flow.
Sumitomo Electric's development of the Aluminum-Celmet material is an outgrowth of its previous work on similar nickel and nickel-chromium materials that they branded as Celmet – presumably a mash-up of "cell" and "metal".
The manufacturing method that achieves Celmet's high porosity involves applying a conductive coating to plastic foam, nickel-plating that structure, then removing the foam by heating the material. The resulting material is a three-dimensional mesh of open, spherical pores that, Sumitomo Electric claims, is "easy to process" by conventional techniques such as cutting and stamping.
Sumitomo Electric has already used nickel-based Celmet to create nickel-metal hydride and nickel-cadmium battery cells. The new Aluminum-Celmet material, however, has the advantages of being lighter and having improved electric conductivity and corrosion resistance, properties that make it suitable for secondary lithium-ion batteries.
The company calculates that a lithium-ion automotive battery pack built using Aluminum-Celmet could provide between 1.5 and three times as much charging capacity. By that calculation, the same amount of charge could be carried in a smaller, lighter battery.
Other possible uses for Aluminum-Celmet batteries, Sumitomo Electric suggests, include compact batteries for use in the home to store power that has been generated from solar "and other natural sources". Although the company doesn't specifically mention electronic devices, there appears to be no reason why this new material couldn't improve their batteries' capacity, as well.
Aluminum-Celmet also holds potential for improved capacitors, as well – and seeing as how aluminum-based capacitors have both positive and negative conductors separated by a dielectric, the chances for weight and bulk savings are even greater. ®