Space shuttle Atlantis will blast off to the International Space Station on Friday, 8 July at 15:26 GMT, NASA has confirmed.
Following a Flight Readiness Review, the agency has given a go for the last shuttle mission to deliver the Raffaello multipurpose logistics module to the orbiting outpost, bearing supplies and spares.
Bill Gerstenmaier, assistant administrator for space operations, said: "We had a very thorough review. This flight is incredibly important. The cargo that is coming up on this flight is really mandatory for space station."
On board for the shuttle programme's swansong STS-135 mission will be commander Chris Ferguson (centre right in photo), pilot Doug Hurley (centre left), and mission specialists Sandy Magnus and Rex Walheim.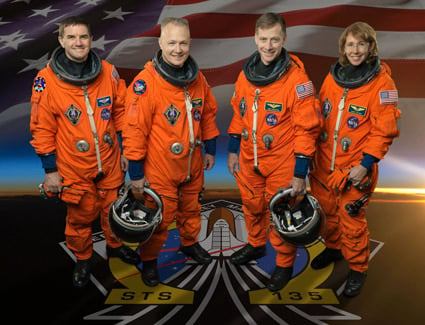 Mike Moses, Space Shuttle Program launch integration manager, chipped in with: "We're really looking forward to achieving this mission, putting station where it needs to be and finishing strong with the shuttle program here with STS-135."
When it returns from its final 12-day trip, Atlantis will be put on permanent display at the Kennedy Space Center Visitor Complex. ®