Middle man: Dell expands on growth plans
Smart phones and tablets for biz
---
Michael Dell is not been spending the same amount of time contemplating his navel as he did a few years back, immediately before the tech company that bears his name hit a rough patch and he returned to straighten things out.
Dell and his top brass do, though, spend a lot of time thinking about the belly of the IT market – invariably called the midrange or the midmarket and a place where they think they can grow their server, storage, and networking lines and dominate with PCs and other client devices in the coming years.
Team Dell outlined its thinking during its annual investor day conference in Austin, Texas, on Wednesday morning, where the founder and chief executive said it is midmarket customers – those between the super users on top and those on the very low end - who often blaze the technology trails with new technologies. It was these who pushed ahead with x86-based servers in the past, well ahead of larger customers, and who are on the front edge of technology trends again with iSCSI storage, server virtualization, cloud computing, and social commerce today.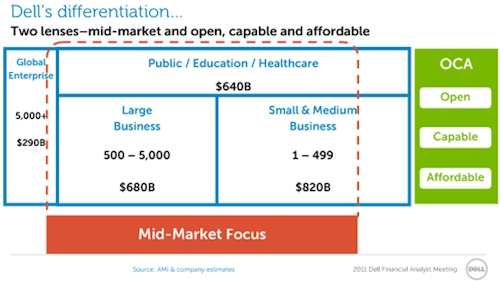 Dell's view of IT opportunity and spending across its four divisions
Dell may sell some PCs to consumers, but it is not focused on these buyers and is rather aiming to sell to corporations and governments as well as something it calls a "prosumer," meaning a professional/consumer that is looking to buy a midrange to high-end PC, workstation, tablet, or smart phone. These come with enterprise-class features and services wrapped and higher margins, too.
Similarly while Dell sells to global enterprises, the big, proprietary and Unix systems that these companies deploy in their data centers are not what Dell peddles. So only a portion of the $290bn in sales of hardware, software, and services at global enterprises is available to Dell, and hardly any of the $220bn in consumer spending will go to Dell.
"The largest part of the business is right in the middle," explained Dell (the man), and this is where Dell gets 80 per cent of its revenues and 90 per cent of its profits. So you can see why the company is sticking to its focus on the midrange. "Our competitors do not – or have not been able to – focus on that part of the industry."
To beef up its products and services in the midrange, Dell has done 11 acquisitions in the past two years, including biggies like the $3.9bn purchase of Perot Systems (services) and smaller ones like the purchases of Compellent (storage), KACE (systems management), and Boomi (cloudy app integration). And according to Dell chief financial officer Brian Gladden, the company is making a fundamental shift from being a hardware vendor to being a solution provider in the mold of IBM, Oracle, and Hewlett-Packard.
This doesn't just mean selling more software and services, but also doing smart things like cutting back on the number of configurations of machines and shifting to more contract manufacturing. Dell shuttered a number of its factories and shifted manufacturing to Asia at the same time it figured out that if it could convince customers to take a smaller number of pre-configured machines, it could then ship machines to customers in North America and Europe by boat for the long haul instead of by plane.
This cut $20 a pop out of the unit cost of a PC, which is a big deal. Simpler configurations means larger orders for components, too, which means lower unit costs for parts, adding to profits. Dell is also now better able to forecast its demand (based on how customers react to pre-configured machines), and that means its supply chain is more efficient as well.
All of these factors have combined to lower Dell's cost of goods sold by 31 per cent from the fourth quarter of fiscal 2009 to the first quarter (ending in April 2011) of fiscal 2012 (which ends in January 2012). And contract manufacturing, by the way, has grown from 43 per cent of units in fiscal 2010 to 72 per cent in the first quarter of this fiscal year.
R&D switch
Gladden also said that Dell has added more sales specialists with expertise in servers, storage, data center design, and so forth to help close deals, and that these specialists now comprise nearly 30 per cent of spending on salespeople. And R&D spending has been shifted away from client devices – enabled in part by product line simplification – and toward servers, storage, and networking, which is projected to account for more than 70 per cent of the Dell R&D budget in fiscal 2012.
Gladden didn't provide any hard numbers on the R&D budget, but said budgets for client devices would be about one per cent of total revenues, with servers and networking getting around five per cent of revenues and storage getting about 12 per cent. Clearly, Dell thinks that storage is a big deal.
Dell's gross margins in storage in the first quarter were more than 40 per cent, more than double than levels two years ago – and not including the effect of Dell's acquisition of Compellent earlier this year. Dell has certainly taken some hits as its partnership with EMC has unwound, but Gladden said Dell's storage business was on track to grow 15 to 20 per cent between now and the end of fiscal 2015, hitting between $4bn and $5bn, and that the storage products based on Dell's own and acquired intellectual property were expected to growth at twice that rate and contribute an ever-larger share of the revenue.
Dell's storage business more or less flat-lined in the past two years, as sales dropped from $2.7bn in fiscal 2009 to $2.2bn in fiscal 2010 and $2.3bn in fiscal 2011. EMC-related sales dropped from $1.7bn in 2009 to $1.2bn the following year and only $1bn last year. Gladden said the pipeline for Compellent products was up by a factor of four since the deal closed in February. In the first quarter of fiscal 2012, Dell's own storage products accounted for 70 per cent of storage revenues and nearly 90 per cent of profits.
Don't fear the whitebox