The EMC-sponsored IDC digital universe study (pdf) is masterful marketing, as great as Gartner's Magic Quadrant.
The study is like a Hubble Space Telescope for the digital universe, showing us more detail every year into the bizarre world of digital data.
It's Big Data big time, with 1.8 zettabytes, roughly the number of bite-sized pieces in a MIlky Way-sized pizza, of digital data being created and replicated this year, according to IDC's statistics..
We're told by EMC that 1.8ZB is "the amount of information needed to fill 57.5 billion 32GB Apple iPads. With that many iPads we could create a wall of iPads, 4,005-miles long and 61-feet high extending from Anchorage, Alaska to Miami, Florida."
Something like this, perhaps?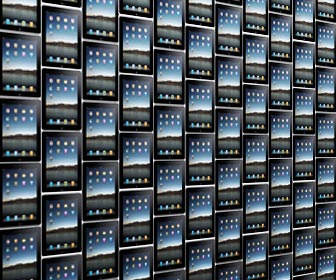 What a lot of data
This stuff should be a gift to EMC's marketeers but the statistics disappear up their own backsides.
We hear that 1.8 zettabytes of data is the equivalent of "Every person in the world having over 215 million high-resolution MRI scans per day." Enough already.
We hear the "world's data is doubling every two years - growing faster than Moore's law."
Why should there be a relationship between Moore's law and data growth rates? This is like implying the world's population of carrots is related to the growth of shipping containers.
Jeremy Burton, EMC's chief marketing officer, said: "EMC is at an ideal crossroad to help our customers - from the world's largest enterprises to governments to small businesses- exploit the hidden value in the digital universe as they continue on their journey to the cloud."
One way EMC could help is by getting Data Domain dedupe the digital universe. If we get a sufficiently high dedupe ratio then we'd have less than a zettabyte to worry about. Thin- provision this - and we'd have less than a few hundred exabytes to be concerned with. Easy! ®