Apollo 14 astronaut Edgar Mitchell is locked in a legal battle with the US government over just who owns a movie camera which flew with him to the Moon in 1971.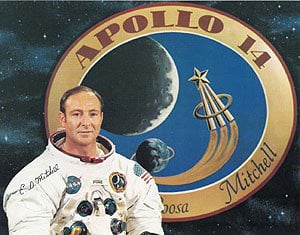 Mitchell - pilot of the lunar module Antares and the the sixth man to walk on the Moon's surface - pitched the camera for sale earlier this year as part of a Bonhams "Space History Sale".
According to Reuters, NASA spotted the "Movie Camera from the Lunar Surface" before it could go under the hammer in May for an estimated $60,000 to $80,000. Once Bonhams discovered there was some doubt over who the device actually belonged to, the auction house removed it from the sale "pending further discussion between NASA and the consignor".
On Wednesday, the government filed suit in Miami federal court, demanding the camera be returned to what it considers its rightful owner. The suit states: "All equipment and property used during NASA operations remains the property of NASA unless explicitly released or transferred to another party."
While NASA claims it has no record of the camera being gifted to Mitchell, the former 'naut's lawyer, Donald Jacobson, say the agency's management back in 1971 "was aware of and approved Mitchell's ownership".
He said: "Objects from the lunar trips to the moon were ultimately mounted and then presented to the astronauts as a gift after they had helped NASA on a mission."
The government is asking the court to order Mitchell to hand over the camera, and declare it has "good, clean and exclusive title" to the piece of space history. ®
Bootnote
Mitchell pops up in the press from time to time with his entertaining assertions that the US government has covered up alien visits to Earth. Back in 2008, NASA countered these claims in a statement which declared: "NASA is not involved in any sort of cover up about alien life on this planet or anywhere in the universe. Dr Mitchell is a great American, but we do not share his opinions on this issue."