This article is more than 1 year old
Ten... pocket compact cameras
When a phonecam just won't do
Product Round-up When it comes to quick pics, the expedience of a phonecam can't be overestimated, yet the image quality expectations frequently are. With this in mind Reg Hardware has rounded up the smallest and cheapest compacts produced by all the usual suspects from the photography world.
Here are ten cameras that will not only take decent snaps but are pocket-friendly too, in more ways than one. They are easy to carry around and at a price that won't cause too much pain if lost in a bar in Cupertino.
All the cameras in this round-up have optical zooms lenses, yet none of them have optical viewfinders. Reliant on LCD screens, the sizes of which vary from 2.4in on Samsung's ST30 up to 3in on the Canon, Olympus and Sony, with only the Fujifilm having a touchscreen.
Being real cameras, rather than phone add-ons, you get all the niceties of a decent flash, tripod mount, swappable batteries and SD cards, with Samsung's ST30 being an odd one out here as it uses Micro SD cards. All of the models take video too, but you get a real mixed bag starting with standard def-ish VGA (640 x 480) all the way up to 1080p HD. Sensors also range from 10.1Mp to 16Mp, and while some might not have pixel counts to match the top end phone cams, the optics and physical sensor size on these compact cameras will surely win the day.
Canon Ixus 115 HS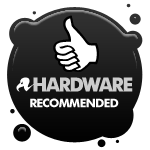 Canon shaves a millimetre off here and adds another there with its compacts, yet even at the lower end, they still cost a few bob. For an extra £30 over the Ixus 105, the Ixus 115 HS features 1080p video recording at 24fps, a 3in LCD screen and a slew of effects, among them fish-eye, miniature and toy camera.
The camera's curves try and disguise its chunkiness – at 93 x 56 x 20mm and 140g, it's no Slim Jim. Protrusions are kept to a minimum though, with recessed Auto/Program switching, power, shutter and zoom lever lining the top plate. The back features a typical five-way navpad – which is small and fiddly – with additional buttons for playback, menu and video recording.
The 5-20mm (f2.8-5.9) 4x zoom lens is equivalent to 28-112mm on a 35mm camera, delivering a useful range that's pretty much standard fare for compacts at this level. However, the Canon is unique in this test as it features a 12.1Mp backlit CMOS sensor, rather than a CCD.
Power on to capture was consistently under three seconds, and although its large display looks clear, crisp and not overly bright, it does suffer a noticeable green cast. Thankfully, this wasn't apparent on the images, so it's not simply a white balance issue. On a range of subjects the Canon performed admirably, with good colour balance and well-judged ISO and exposures choices in auto modes.
While some complex compositions lost detail in the lighter areas, shadows came out well and exposures never looked washed out or dark. Flash coverage was nice and even too. The video was quality was also very good but during capture you can't alter the zoom or the focus. Overall, the Ixus 115 HS does what you'd expect from Canon, but it'll cost you more than double some of the models listed here, which impacts on its overall rating.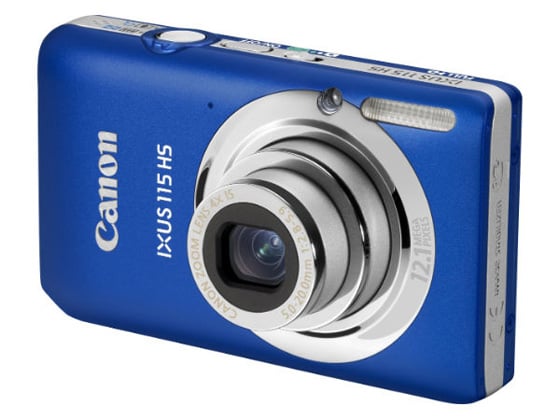 Reg Rating 80%
Price £179
More Info Canon
Casio Exilim EX-ZS10

The EX-ZS10 maintains the thin form-factor reputation of Casio's Exilim brand. While it measures up at 95 x 56 x 19mm, this is quoted at its thickest around the lens assembly, the body itself is a good 2-3mm smaller. Weighing the same as the Canon, it has a power button and zoom lever along the top. Curiously, there's a second power button on the back along with a video button to record at a maximum of 720p HD at 30fps. The navpad drives an on-screen menu rather than dedicated functions and scrolling through them can be time consuming.
This 14.1Mp camera is rather slow on the draw, taking a shade under 4s to power on and shoot. The 2.7in screen is a perfectly adequate – clear, bright and with no colour cast. Featuring a 5x zoom lens (4.6-23mm, f3.2-6.5) while not the brightest here, it boasts a wider-angle lens than most, with a 35m equivalent range of 26-130mm. When recording video, it's a fixed focus affair, although you can set the focal length before shooting. Zooming to 4x during capture is possible but it's rather jerky.
The autofocus tends to lock the screen momentarily in any of its options, including initial use in tracking mode, which is distracting. Some shots revealed a tendency to oversaturate too, due partly to underexposure.
While the specs of the Casio seem quite respectable, the devil is in the detail with JPEG artefacts obvious in even low ISO shots that muddy the definition. Chromatic aberration appears quite pronounced too. Also, if you're a Mac user, the Motion JPEG AVI video wouldn't play using the QuickTime X Player, but was viewable with VLC.
Reg Hardware has been told that the EX-ZS10 is due a promotional price drop to £100 in July, which does mean you could get a compact HD video recorder, but for stills, it's just not the sharp shooter it should be and certainly not worth the original asking price.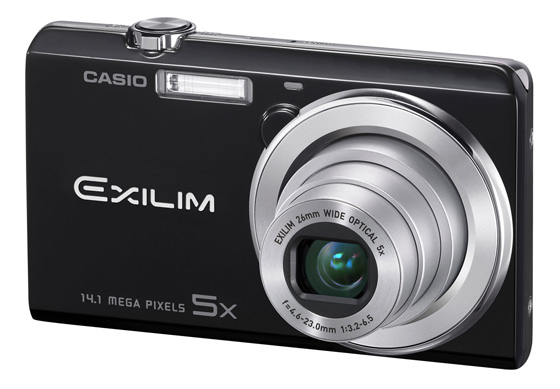 Reg Rating 45%
Price £229/£99
More Info Casio