Comment Just last week I had the rare opportunity to catch up with Bill Gates. He's a busy man, of course, with the Foundation's medical research and investments consuming most of his time. Being so engaged with development issues, I wondered, did Gates have time to look at the spread of technology into developing countries? Gates said he did. There were concerns about the pace of technology transfer, I pointed out. Was the latest mobile innovation reaching the new markets fast enough?
"But Andrew," he said, leaning over to glance at his Windows Phone 7. "640kb of memory ought to be enough for anybody."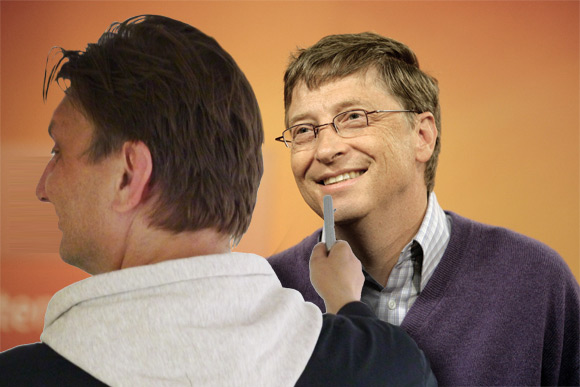 Your correspondent interviewing Bill Gates.
The newspaper columnist and vanity interviewer Johann Hari faces more allegations of plagiarism today, having offered an apology for using quotes from historical interviews and passing them off as if they were told to him. Hari inserted his own reaction between blocks of already published material, to make it look like a freshly minted quote. He owned up after being rumbled, but created a much bigger problem for himself with his justification.
"Since my interviews are intellectual portraits, that I hope explain how a person thinks," he wrote, "it seemed the most thorough way of doing it."
Much amusement followed, with the Daily Mash taking the prize. "Johann Hari has dismissed claims of plagiarism during a fantasy interview where he pretended he was talking to Michael Parkinson," reports the Mash. "The columnist sat down in his living room last night, facing an empty chair and answered questions Parkinson had asked Muhammad Ali, David Niven and Billy Connolly in a series of memorable interviews in the mid to late 1970s."
Hari's self-righteous insistence that the technique was not plagiarism merely inflamed the story. Ben Goldacre, who writes for The Guardian, thought the use of quotation was "unstylish".
Whether it is plagiarism or not may be debatable, but the practice most certainly is a few other things. It's deceptive, and it's undoubtedly a breach of copyright – something that leaves your employer with an expensive liability.
And it's all so easily avoided by citing the original author, or source. Three extra words is all it takes, usually. But that's one of Hari's problems: the interviews aren't really about the subject, but about Johann, and Johann's political journey, with Hari as the lead character. The Hero Hari is battling wickedness – and in his apologies, as with the work, the means justify the ends. His vanity, as well as the nature of the technique (and the ease with which he could have avoided the pitfall by crediting others) explain why there was so much merriment on Twitter, which kept the story alive.
Now Guy Walters at the New Statesman, looking at quotes Hugo Chavez gave to Hari, which are uncannily like earlier quotes, wonders if the book citations aren't the tip of an iceberg. One blogger wondered why so few quotables were reported after a trip to Iraq – yet Hari could conjure up new, quite dramatic quotations from Iraqis from that journey when the occasion required it.
But in 2003, Private Eye found something much more damning. In 2001, Hari wrote of celebrating his Cambridge graduation "with a few tabs of Ecstasy" and praising "the Ecstasy I know and love".
Alarm bells should have rung, since Ecstasy doesn't come on tabs, but rather in pill form. The Eye suggested he had to phone a friend to ask what it was, and get the jargon right.
I remember many years ago doing quotes to camera for ITN. With me was an ancient relic representing the British Computer Society, a portly elderly man in a brown polyester suit, who called hard drives Winchesters, and smelt of dust. I think it was about early internet security. He was delighted how it had gone.
"If you need me again do you think I could do a few reaction quotes you could keep for future stories?"
I thought this was a marvellous idea. If only Churchill, Chamberlain or Oscar Wilde had done this, putting quotes in the can, we could still be enjoying them on the One O'Clock News today.
"What do you think of Jack Wilshere's withdrawal from the Under-21 squad?", the interview could ask, and Winston could reply - "This sets a very poor example."
The TV producer thanked him for the suggestion – very politely, I thought. ®
Sponsored: Webcast: Discover and secure all of your attack surface