This article is more than 1 year old
Plucky Czechs force Street View changes
Slurpmobiles reined in by Prague authorities
Google's Street View cars will soon be back on the streets of the Czech Republic after the data protection registrar forced changes on the search and advertising giant.
Google was forced to suspend the creepy fleet of picture-taking, Wi-Fi slurping vehicles because of objections from the Office for Personal Data Protection.
Google had failed to register as a data controller in the country before grabbing pictures. The regulator also objected to the height of the cameras; it accused Google of effectively peering over people's fences.
The towers supporting the cameras will now be shortened to 2.3m to 2.4m (about 7.5ft) instead of 2.7m (nearly 9ft). Google Ireland has registered as a data controller. It will have to deal with any problems, or requests for deletion, within 48 hours.
Google's drivers will be trained to avoid certain areas at busy times – such as schools at opening and closing times.
The search and ad giant will also have to warn regional councils and city councils when they intend to start collecting pictures in their areas. Tourist information stands must also be forewarned when the fleet of cars descends.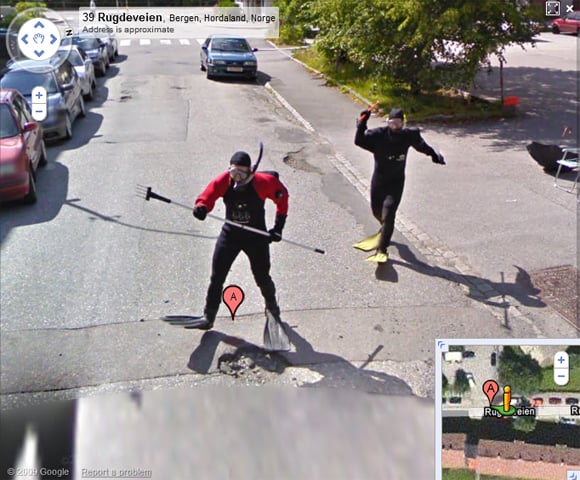 We at Vulture Towers can only hope this compulsory warning will give Czechs enough time to don wetsuits and fishing spears in order to chase the cars – like the welcome Google received in Norway.
The statement from the regulator said: "The general public will be informed that photographs are being taken via the media, an advertising campaign and the Street View webpages, which will be available in Czech."
Google also promised to follow Safe Harbour rules when transferring data back to the United States. We asked Google for a comment but have not had any reply.
Although given the all-clear by the Information Commissioner's Office in the UK, regulators in Germany and India have been less enthusiastic.
Google is also likely to face privacy court case in the US over claims that its mass collection of Wi-Fi data was, in effect, illegal wiretapping. ®