This article is more than 1 year old
Telcos: up your prices, lose customers
Networking switching stats show effect of tariff tweaks
Mobile providers rely on their customer base, yet unlike hardware manufacturers, developing a loyalty is difficult. With so much competition, increasing prices can have a significant impact and send customers sniffing elsewhere.
Mobile tech website Ken's Tech Tips tracked the popularity of the UK's major mobile operators by trawling through thousands of responses to its Porting Authorisation Code (PAC) Finder application, designed to guides people through the process of transferring a phone number from one carrier to another.
Over the last nine months, the site examined 33,641 responses, monitoring the number of customers joining or switching networks in a given month.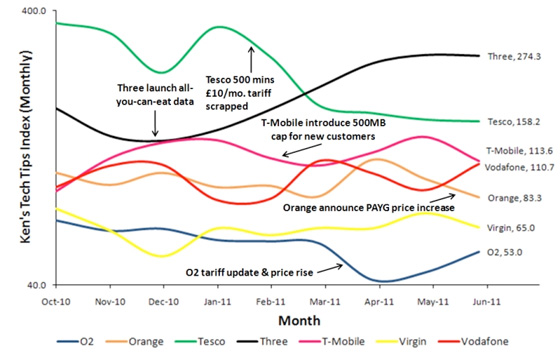 Source: Ken's Tech Tips
According to results, ever since Three launched its all-you-can-eat data plan, The one, it has been on quite the rise and now dominates the market after overtaking a now-sinking Tesco in February. The giant grocer has been suffering ever since it scrapped its popular £10-a-month 500-minutes tariff in January.
O2 is least popular and took quite a bashing in March when it increased prices. The telco's low scores in this study are attributed to its decision earlier this year to focus on high-value customers and not chase volumes.
Orange was already declining when it upped PAYG prices.
What is clear from this is that when mobile operators hike up their prices, they really do lose customers. Punters don't just put up with the increases - they will shop around. Popular wisdom has it that consumers are generally a lazy lot who don't shop around. Here's evidence that they do. Telcos, take note. ®