Cisco drives epic Chinese surveillance network, says report
Half million Big Brother cams
---
Cisco and other western companies are reportedly working with the Chinese government to install a network of one half-million surveillance cameras in the rapidly growing commercial and industrial metropolis, Chongqing.
Citing people familiar with the deal, The Wall Street Journal reports (subscription required) that Cisco will supply the networking equipment the massive surveillance system.
The government of Chongqing – a city on the Yangtze river of between 12 and 32 million souls, depending on how you extend the metropolitain outline – declined the WSJ's request for comment. So did the country's Ministry of Public Security and State Council Information Office.
Little has been published in the West about the surveillance-camera network, dubbed "Peaceful Chongqing". However, a notice on Chongqing Currents, a city-news site, reports that a Peaceful Chongqing "mobilization and deployment meeting" was held this March. The goal of the surveillance project is described as being to make Chongqing "a city with good security, harmonious peace and safety for investment, and to provide stable society for promotion of the harmonious urban and rural development."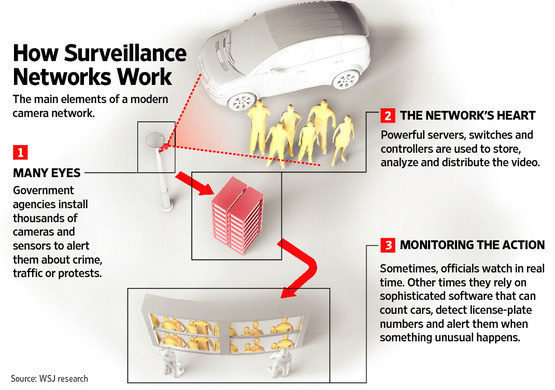 The Wall Street Journal's low-tech explanation of high-tech surveillance networks such as "Peaceful Chongqing"
Perhaps interestingly – and perhaps not – Google's link to the original Peaceful Chongqing reference in Chongqing Currents now merely turns up a Chinese-language 404-error page. The reference to "good security, harmonious peace and safety for investment" is from a Google-cached version.
It's against US law to provide the Chinese government with crime-control products, due to legislation passed soon after the uprising that the world came to know as Tiananmen Square was crushed by Chinese troops. A more far-reaching and punative bill, "The United States-China Act of 1991", was passed by the House and Senate, but vetoed by then-President George H. W. Bush.
The difficulty with the law that did make it past Dubya's daddy's desk is, of course, determining what it covers and what it doesn't. While the WSJ notes that, for example, fingerprinting equipment clearly falls under the law's strictures, networking equipment in support of a web of 500,000 surveillance cameras that train their cyclopian eyes on the public is a different matter.
Cisco, which first established Chinese operations in 1994 and now has over 3,000 employees in the country, flatly denies that the company has stepped over the line in the Middle Kingdom. "Cisco does not supply equipment to China that is customized in any way to facilitate ... surveillance of users," wrote Cisco general counsel Mark Chandler in a post entitled "Cisco Supports Freedom of Expression, an Open Internet and Human Rights" on the company blog last month.
Chandler's stand is entirely plausible – even though "customized" is a bit of a wiggle word. That said, a repressive government with a history and practice of suppressing dissent and monitoring its citizens' behavior can turn even as seemingly innocuous an item as a Cat6 patch panel into a supporting player in Big Brother's telescreen future.
Peaceful Chongqing is schedule to go live "over the next two to three years," the WSJ reports. ®