This article is more than 1 year old
Nokia X7 Symbian Anna smartphone
End of an era?
Review When you buy a mobile, you know that you're likely to be stuck with it for the life of your contract. Good news: you'll get used to its quirks and differences. Bad news: you can only watch as gorgeous handsets are released for the next year or two.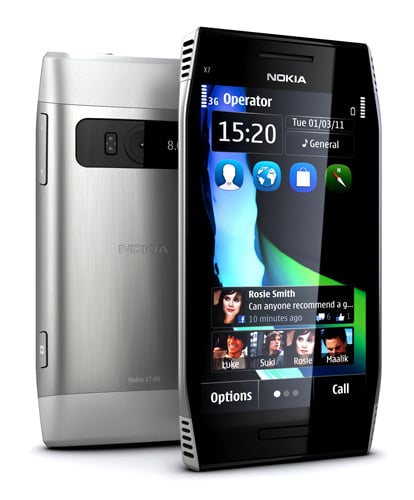 Smart move? Nokia's X7
But what's trickier about the new Nokia X7 is that it uses Symbian, the much-maligned operating system which even the Finnish phone maker says won't be its main phone platform. From later this year the company will mainly focus on Windows Phone for its smartphones. So do you really want to buy what may turn out to be the last major Symbian handset?
Let's say at first that this is far and away the best iteration of Symbian. On this handset, everything works at speed and with maximum fluidity. True, the phone's tagline "All you need is behind one touch," sounds more fruity than inviting, but let that pass. The N8 was chiefly let down by a touchscreen system that didn't seem purpose-built, so the screen was slow and unresponsive.
That's fixed with the X7 and it's a pleasure to use it, with screens swiping exactly when your finger does, and the accelerometer spinning the display as quickly as you turn the phone. The three home screens of the N8 stacked with shortcut icons respond instantly, though the design of the interface looks less than new. Multi-tasking is handled well: a long press of the menu key shows which apps are open and you can flick between them easily.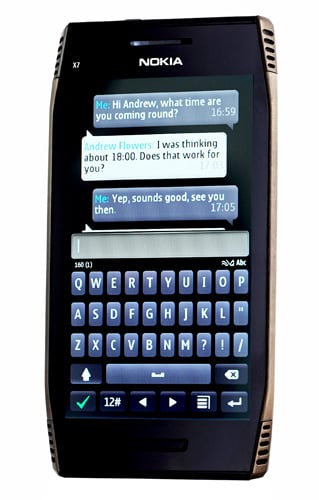 Virtual keys are available in portrait mode now
Previously there was no Qwerty keyboard in portrait orientation (I know, I know) but that's been remedied. But it does still feel like a system that was designed for other phones and tweaked for touch. Which, to be fair, it is. For all the improvements in this update, the overriding feeling is that Nokia was right to move on from Symbian. Nice touches remain, like the analogue clock lock screen.