Design matters
How about the hardware? Well, like the N8 and E7, there's a brushed aluminium elegance to the design of the big, angular X7. The flat front has a big (4in) CBD screen. CBD stands for Clear Black Display and is Nokia's AMOLED technology. It looks great: rich, vivid and contrasty. And when you play video on it, it's remarkable – involving, smooth and unbelievably sharp.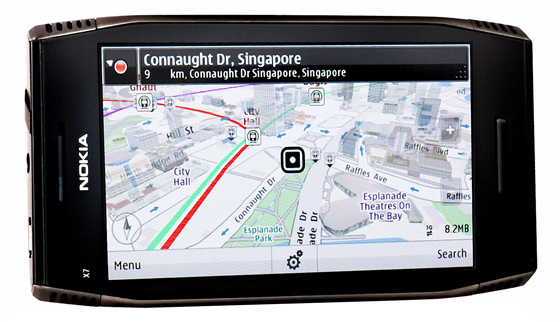 Nokia maps is still an enticement – offering route finding abroad without data charges
There's a straight slat of a menu button under the display and the other distinguishing features are the industrial-looking vent-like slats in the corners. Turn it round and the phone is all curves, the smooth surface broken up by the camera and flash, an engraved Nokia logo and four small oblongs on the edges. One's the volume rocker, one the camera trigger and on the other side are slots for sim and memory cards.
Like the N8, this phone has a sealed battery. That doubtless extends the life between charges because you save the space you'd otherwise spend on battery casing, contacts and so on, but it means you're scuppered if it does run down. Nokia's skill in the N8 was to create a smartphone with the battery life of a feature phone. It put others in the shade. This phone's battery is appealingly long-lasting, too – in tests it ran well into the second day.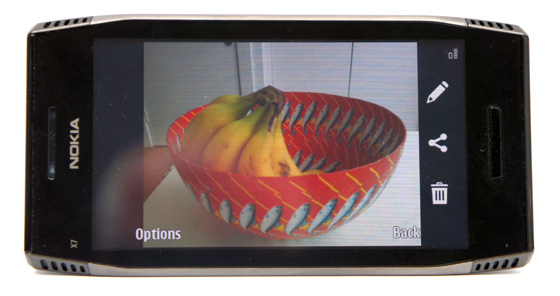 Not the highest resolution display, but the touschsreen is very responsive
The curved back means the X7 feels good in the hand, though by George it's big. The N8, and just-announced N9 – a phone using another soon-to-be-dumped operating system, Meego – look neater but the X7's solid, hefty and uncompromising design has grown on me.