What's in store?
There are other changes from earlier Symbian blowers. Not least the haptic feedback. On the N8 and E7 this was exquisite, the best physical feedback of any smartphone. But here it feels cruder, vibrating the phone like it's a metal toy, even when it's turned down to the lowest level. It's a disappointment, though not a deal-breaker.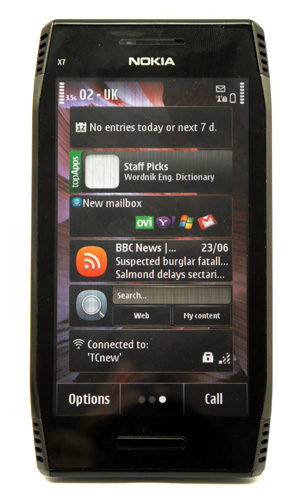 Customisable screens with widgets aplenty
The X7 has an 8Mp camera and this is very good. It doesn't quite match the N8's 12Mp glory, but it's sharp, with good colour fidelity. In bright or even average lighting it's very fast, with no discernible shutter lag at all. As always, flash is best avoided if possible as it bleaches out all detail.
The X7 isn't a phone with a dual-core chip. Or even a 1GHz CPU. But while speed freaks may be disappointed, the phone never seemed to lag or struggle – the exception being the web browser, which was occasionally slow, though that could have been the Wi-Fi connection.
Symbian doesn't have an app store with that many must-have elements, though at least it has Angry Birds, so that's a minimum requirement passed. Downloading apps is more cumbersome than it is on Android or iOS, but never mind. Call quality and signal strength, typically for Nokia, were strong, robust and reliable.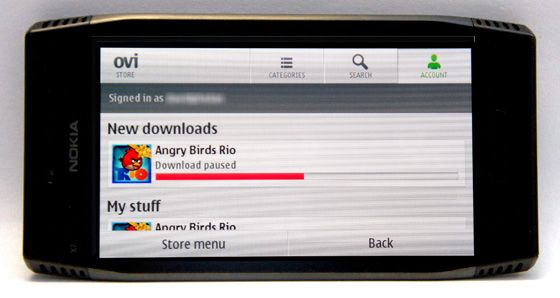 The soon-to-be- rebranded Ovi store isn't overflowing with apps, but at least the important ones are there
Verdict
There's no denying it, Nokia is a class act, capable of delivering some of the best-looking handsets around. This metal-cased phone is well-designed and has great build quality. There are lots of features, all handled well and Nokia's ability to make a smartphone run for a decent length of time should not be underestimated. In many ways, this is a simply terrific phone, if a bit on the large side.
But it's powered by Symbian and although this is the best version of the operating system yet, and the version which should have been on the N8, it feels creaky. In the autumn, when Nokia releases its first Windows Phone handset, expect the world to change. ®
More Android Smartphone Reviews

LG
Optimus Black
Motorola
Atrix
HTC
Sensation
Samsung
Galaxy S II
Sony Ericsson
Xperia Arc
Sponsored: How to simplify data protection on Amazon Web Services

Nokia X7 Symbian Anna smartphone
Versatile smartphone and one of the last handsets Symbian, arrive.