Sony is developing a PlayStation Network design upgrade that could transform the online environment into a more image-driven layout along the lines of Xbox Live and Steam, Reg Hardware has learned.
Many PSN users say the current PSN is far too text heavy, so Sony is now market-testing a new design that de-clutters the screen using what sources familiar with the new look call "an aesthetic layout with logically marked sections and rolodex lists".
The revamped PSN also packs a new, live search method with results appearing as users enter characters rather than head off to a separate text-entry page.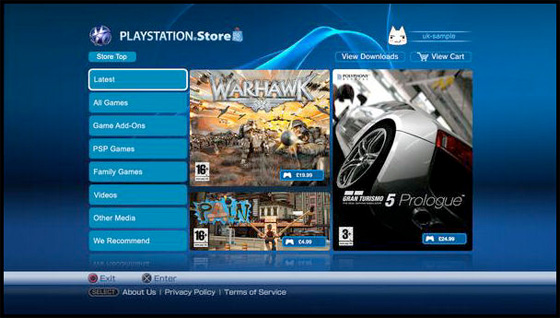 All change? PSN as it appears today
The movies section has been rebuilt as an IMDB-style database. When you select a film, for example, key details appear on the right of the screen, such as leading actors. Clicking through will take you to the actor's page, where you can see all of their movies.
The same exploration approach is taken with games, categorised by genre, publisher, developer and so on.
Sony is readying a 'deals of the week' section too, making it easier to pick up bargains.
It also appears the company is planning to throw out the blue colour of the current skin and opted for ultra bright colours on a black background.
In revamping PSN, Sony may be hoping to claw back customer trust lost during the hacking fiasco, which saw unhappy gamers impatiently trade PS3s for Xbox 360s.
Perhaps Sony is eager to perfect its online store in preparation of the PlayStation 4 or 3.5, rumoured yesterday to be entering production by the end of the year. ®