The American passion for tablets is declining just as e-reader growth is accelerating.
Between January and May of this year, tablet ownership in the US grew from 7 to 8 per cent of the population, according to a new report by the Pew Internet & American Life Project. Previously Pew reports, tablet sales had been climbing relatively quickly.
Interestingly, that same time period saw the release of the second Jobsian fondleslab, the iPad 2, along with the Motorola Xoom and BlackBerry PlayBook, and still the tablet growth rate slowed.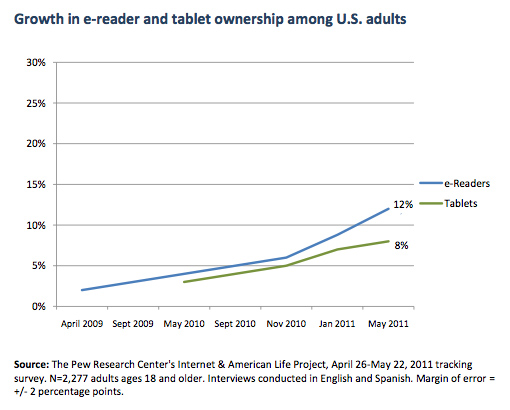 Tablet sales are slowing, even as more tablet choices appear (source: Pew Internet & American Life Project)
Neither the HP TouchPad nor the Samsung Galaxy Tab 10.1 appeared during the Pew-report period, but we doubt if the slowing in tablet sales was a result of buyers putting off purchases until those worthies hit the market – though, to be fair, we can't be sure. Call it a hunch.
E-reader growth, by contrast, is accelerating. In November of last year, 6 per cent of Americans owned e-readers. As of May, that number had doubled to 12 per cent – the first time that the Pew researchers had tracked it in double digits.
The survey – which spoke with 2,277 respondents in both English and Spanish, and over both landlines and cell phones – picked up a number of other tidbits of interest, as well.
For example, 9 per cent of respondents owned an e-reader but not a tablet, 5 per cent owned a tablet but not an e-reader, and 3 per cent owned both – meaning that as of Tuesday morning, 9,350,938 Americans have been driven to spend a decent chunk of their disposable income on the latest digital shiny-shiny.
But despite their increasing popularity and media buzz, both tablet and e-reader ownership lags far behind other gadgets. Pew reports, for example, that 83 per cent of Americans own cell phones, and 57 and 56 per cent own desktops and laptops, respectively.
Even DVRs are owned by six and a half times as many Americans as are tablets. It'd be interesting to chart the relative media coverage of those two digital devices. One might safely predict – even without a formal study by the Pew Internet & American Life Project – that the results wouldn't mirror their percentage of ownership. ®