This article is more than 1 year old
New Yorkers battle giant blindness-causing plants
Botanical SWAT teams confront triffid-esque menace
Authorities in New York State have warned residents to keep a sharp look-out for the giant hogweed – the alien invader from the Caucasus Mountains which has the power to cause "severe skin and eye irritation, painful blistering, permanent scarring and blindness".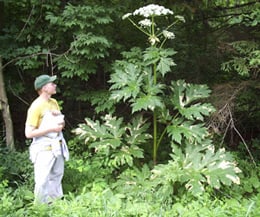 The Department of Environmental Conservation (DEC) is in its fourth year of battling Heracleum mantegazzianum (pictured), and has six botanical SWAT teams on standby to purge the 944 known New York giant hogweed sites of the menace. Citizens who sight the beast are warned not to approach it, but rather provide photographic and location information to the department.
The giant hogweed was "introduced to Europe and the United Kingdom in the late nineteenth century and to the United States in the early twentieth century as an ornamental garden plant", DEC explains.
It adds: "It has become established in New York, Pennsylvania, Ohio, Maryland, Oregon, Washington, Michigan, Virginia, Vermont, New Hampshire and Maine. Seeds may also be distributed by birds and waterways, and can remain viable for over 10 years."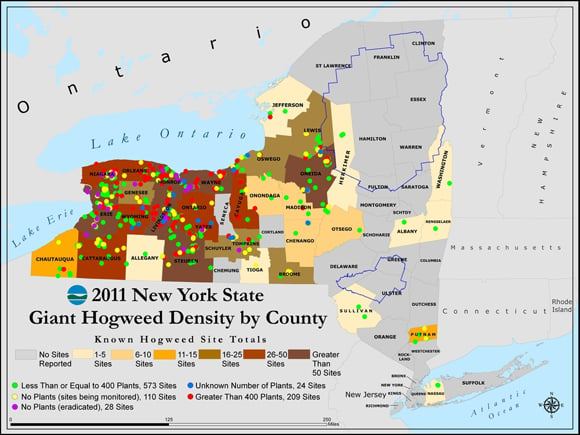 The giant hogweed's nasty bite is due to its production of furocoumarin derivatives which cause phytophotodermatitis, or burning of the skin in exposure to ultraviolet light. Older readers may recall the UK's own Heracleum mantegazzianum scare of the early 1970s, which prompted prog-rock outfit Genesis to issue this chilling warning to humanity. ®