Antique Code Show For me, 1983 was all about Flashdance but getting Manic Miner for my ZX Spectrum on Christmas morning was almost as good as some burgundy legwarmers.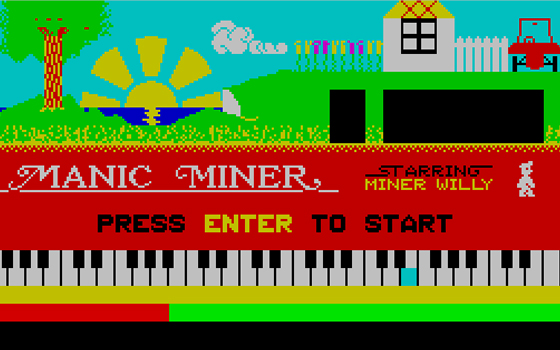 Manic Miner: fiendishly frustrating and yet so easily addictive
Created by Matthew Smith and released by Bug-Byte Software, this diabolically difficult platformer is teeth grindingly addictive because of its simplicity. Miner Willy has his hands full avoiding vicious penguins, flapping toilets, evil performing seals and my all time fav floating head Eugene. This is the quintessential English surreal platformer. Move over, Donkey Kong!
Need to refresh your Manic Miner memory? Check out this video, which runs right from from loading - those cassette data squeals and squarks will take your right back- through to gameplay on a ZX Spectrum:
Miner Willy's mission is to retrieve flashing objects from twenty technicolored caverns and to escape before his oxygen runs out. This game is all about the simple, with clean and clear gameplay and design that adds rather than detracts from the overwhelmingly tongue in cheek sense of fun Matthew Smith managed to instil into this game. But that's where the simplicity ends and the frustration sets in as I die again and again from the misjump of a millimetre.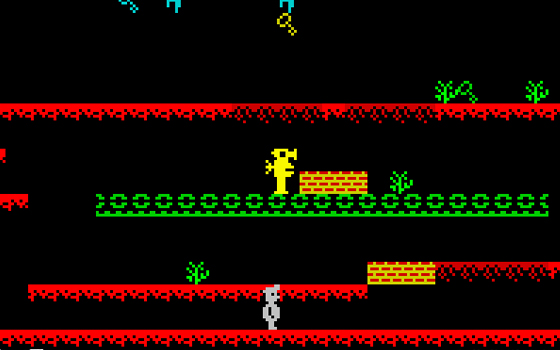 Precision timing is the only way forward
The amount I played this game in my youth has left me wondering why I don't have the reaction skills of a racing driver, because it's all about precision timing.
The graphics and colour scheme while being simple and blocky are also eccentric and comical. My enemies have real character even though created with the most basic animations. In The Cold Room penguins walk like Egyptians bobbing their heads back and forth, In Eugene's lair animated toilets clack their seats at you threateningly.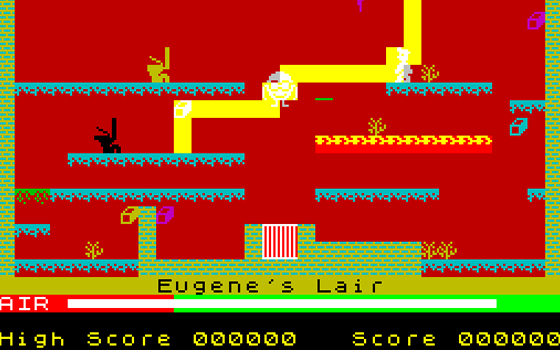 Toilet humour?
Is it possible to hate my own reflexes as my thumb on the space bar makes me miss that jump again? With simple keyboard controls of O and P to move and space bar to jump there will be no complaints of gameplay being overly technical. Oh for the days when I my death was my own misjudgment and blunder rather lag or bad development.
Luckily, my enemies can only move horizontally or vertically but watch out as they start to ramp up the speed! The difficulty of each cavern increases along with the speed of my enemies. This is where the game really lives up to its moniker by getting really MANIC!
This was the first game I know of to have constant in game sound. This is the one aspect of Manic Miner everyone I have spoken to remembers, the constant clicking and beeping has burned itself on many a 'born in the 1970s' subconscious. Annoying, yes, but the music really suited the movement and atmosphere of the game.
Dee-dee-dee-dee-dee-da-dee, dee-da-dee, dee-da-dee, etc, etc.
It's In the Hall of the Mountain King by Grieg, part of his suite of music for the play Peer Gynt. Opus 46, doncha know? If I ever hear this on Classic FM, my mind goes right back to Willy. Your kids might have heard it in the movie Social Network.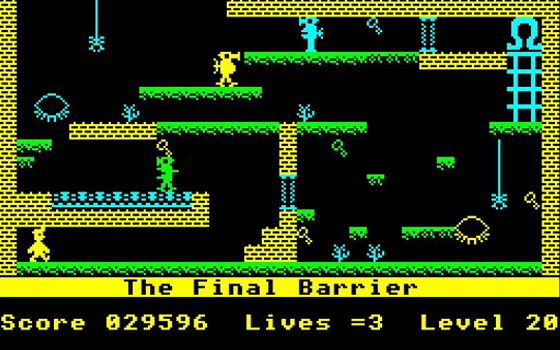 Music and movement
And I will never forget the strange migraine-fuelled electronic piano version of the Blue Danube that plays while you wait for the game to load. Seriously, I reckon it's less irritating, in retrospect, than What a Feeling by Irene Cara.
I remember this being a difficult but strangely rewarding game. Funny and frustrating in equal measure and still enjoyable as an adult 28 years later. ®
Every month, Reg Hardware will be revisiting memorable titles from gaming's illustrious past.
Developer Matthew Smith
Year of release 1983
More Info Manic Miner for ZX Spectrum is available for download from World of Spectrum (restrictions apply). An FTP over HTTP mirror is here. Versions for other platforms can be found on Retrospec. An iOS version of Manic Miner is available on iTunes.