Microsoft muzzles IE chief's 'native HTML' nonsense
Balderdash bug report closed
---
Microsoft has abandoned its nonsensical effort to recast HTML as a native Windows technology. We can once again applaud the company's long overdue embrace of the latest web standards.
In April, with a speech at the company's annual MIX conference and an accompanying blog post, head IE man Dean Hachamovitch announced that the upcoming Internet Explorer 10 would deliver "the next wave of progress" in what he called "native HTML5 support". It was a breathtaking moment.
"Web sites and HTML5 run best when they run natively, on a browser optimized for the operating system on your device," he wrote. "We built IE9 from the ground up for HTML5 and for Windows to deliver the most native HTML5 experience and the best Web experience on Windows. IE10 continues on IE9's path."
Even by Microsoft's standards, this was an epically ridiculous attempt to remake the web in its own image. "[The 'native html' tag] basically contradicts the entire idea of the web as non-native and platform-agnostic. You know, the idea the entire web was built on?" was the response from Opera man Haavard Moen. "HTML5 is not native. It is not supposed to be native. It is silly to even attempt to tie HTML5 to a specific platform."
But it appears that Microsoft has now realized the error of its ways – at least in this case. "I don't know that you'll see us refer to native HTML in the future," freshly-made Internet Explorer evangelist Ari Bixhorn said during a visit to The Register's San Francisco HQ on Thursday, indicating that the tagline was ill-advised.
What Hachamovitch was trying to say is that in supporting standards like HTML5, CSS, and JavaScript, Internet Explorer and Windows also offer a few things you won't get from other platforms. This includes the browser's particular method of hardware acceleration and the IE "pinning" tool, which lets you drag and drop links to oft-visited websites onto you desktop.
"The way I think about it is: HTML5 is HTML5. You implement the standard to the letter and then in addition to that, there are ways to differentiate the broader web browsing experience," Bixhorn said. "If you look at our hardware acceleration implementation and you compare it to other browser makers, we're all doing the HTML5 spec, but we're able to differentiate the experience in IE. With site pinning, it's outside of the bounds of HTML, but we're creating a better experience there too."
Other browser makers disagree with Bixhorn's take on IE's hardware acceleration, and he declined to discuss the particulars, saying he would provide a detailed comparison of hardware acceleration on IE, Firefox, and Chrome at a later date. But the point is that he clearly realizes Microsoft can't expect to pull the proverbial wool over the eyes of seasoned web developers. "Native HTML" is no more. Ex-Firefox lead developer Mike Beltzner can close his bug report.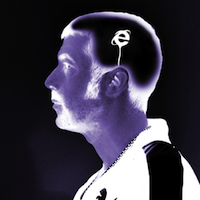 Ari Bixhorn's brain
In the area of hardware acceleration, Microsoft has not adopted WebGL, the standard that maps JavaScript to the OpenGL desktop graphics interface. It appears that Microsoft is favoring its own DirectX graphics APIs, but Bixhorn insisted this is not the case. "At the meta-level, WebGL falls into the category of a spec that we don't think is ready for primetime," he said. "There are some security issues...that make us hesitate to implement it."
The security of WebGL is also open for debate. One morning last month, both Microsoft's Security Research Center and he UK-based Context Information Security published reports questioning the security of the emerging standard, but these advisories were pooh poohed by many across the industry, including one of Microsoft's own security researchers.
Bixhorn did say that if WebGL is deemed secure, it might find a place in IE. "If the spec has its security holes patches and things like that, I think it would fall into the category of any other specification...something that could be considered for the future," he said. "The security efforts around WebGL right now make it a non-starter for us." ®