OCZ is taking on Fusion-io in the enterprise flash array market and adding a flash-disk drive hybrid to its range for workstation use. This SSD company is powering up into the enterprise from its consumer flash beginnings.
There are two products due to be announced shortly, we understand, based on demonstrated prototypes seen at Computex in Taiwan in May. Ryan Peterson, OCZ's CEO, mentioned both in the recent earnings call.
Z-Drive R4
The Z-Drive R4, a follow-on from the current R3 model, comes with an 800GB to 3.2TB capacity range and was demonstrated on a Colfax server at Computex. The demo used multiple Z-Drive R4s, and the system achieved more than 1 million IOPS, the sort of demo Fusion-io specialised in a while ago.
We understand a single Z-Drive R4 does up to 350,000 random write IOPS (4K blocks), 2.9GB/sec sequential reads and 2.7GB/sec sequential writes. It can use single-level cell flash, 2-bit multi-level cell (MLC) flash, and eMLC (Enterprise MLC), which lasts longer than ordinary MLC.
You will be able to have over-provisioned and power loss-protected R Series Z-Drives or less expensive C-Series versions lacking those features. The controller has a so-called Virtualised Controller Architecture v2.0 which offers TRIM and SMART support, and uses eight SandForce SF-2281 processors in a RAID 0 configuration.
The interface is PCIe Gen 2 x8, and we have a volume ship date of this month.
In comparison, TMS's RamSan-70 900GB PCIe flash card does around 400,000 random writes and reads sequential data just over 2GB/sec. A Fusion-io ioDrive Duo 320GB SLC card does 262,000 random write IOPS (with 512B blocks), 1.5GB/sec sequential reads and writes. We firmly expect Fusion-io to announce updated product in the next month or two.
Revo Hybrid
The idea of combining a slug of flash memory cache with traditional hard disk drive has been popularised by Seagate with its Momentus XT. The aim is to boost data access speeds by caching hot data and/or O/S boot images in the flash.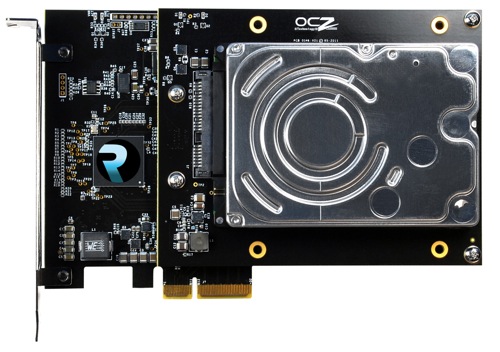 OCZ Revo Hybrid combination SSD and HDD on a PCIe card
OCZ talked about doing this with its RevoDrive at a Flash Summit in August last year. It demonstrated fixing a 2.5-inch hard disk drive to a RevoDrive PCIe card at Computex in May. The prototype product used 60GB of MLC flash with four SandForce SF-2200 processors in a RAID 0 configuration, a 500GB hard drive, together with DataPlex caching software. OCZ called this combination a Revo Hybrid.
Some performance numbers came out of the Computex demo: 30,000 random write IOPS, 575MB/sec sequential reads and 500MB/sec sequential writes.
There is said to be a version coming with 120GB of flash and a 1TB hard drive.
Having 60GB of flash is a lot more than the relatively paltry 4GB of NAND inside the Momentus XT's casing with its limited internal space. We haven't seen random IOPS and sequential MB/sec I/O numbers for this drive, so a direct comparison between it and the Revo Hybrid isn't yet possible.
The caching software should deliver better results overall for the Revo Hybrid as there is vastly more flash cache space to work with.
OCZ suggests pricing for the Revo Hybrid will be in the 40 cents/GB area. At Computex it said a 240GB Revo Hybrid could cost $699. More details will be revealed when it is properly announced. ®