SAP locks down co-CEOs
Two prongs until 2017
---
Germany application software giant SAP has locked in its current co-CEOs to run the company for the next six years, making a commitment to the long-term strategy and tag-team management of the company.
Back in February 2010, Leo Apotheker, now president and CEO of Hewlett-Packard, was shown the door by SAP by not having his contract as CEO renewed by "mutual agreement". That's when SAP's board of directors tapped Bill McDermott, previously head of field operations, and Jim Hagemann Snabe, formerly in charge of product development, to be co-CEOs.
Hagemann Snabe has been at SAP since 1990, with a brief two-year stint at IBM Denmark from 1994 through 1996. McDermott ran SAP's American operations for many years, and previously was in charge of sales and operations at CRM software pioneer Siebel Systems before it was borged by Oracle.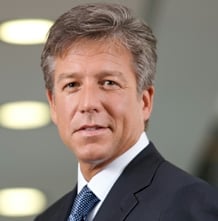 SAP co-CEP Bill McDermott
The SAP board likes what they have seen in the past year, and has decided to stick with the two-CEO engine. McDermott and Hagemann Snabe now have employment contracts that run through June 30, 2017. The company has also extended the tenure of Gerhard Oswald, a member of the executive board, through June 30, 2014.
"The supervisory board again has expressed its full confidence in Bill McDermott and Jim Hagemann Snabe and recognized their extraordinary achievements in leading SAP's successful growth performance during their tenure," said SAP co-founder and chairman, Hasso Plattner, in a statement.
"We are also very pleased that Gerd Oswald will continue to serve SAP with his long experience and outstanding expertise. Under Bill's and Jim's guidance, SAP has returned to growth and further extended its leadership in business software while delivering breakthrough innovations in the software industry to market. We remain committed to further pursuing this successful course."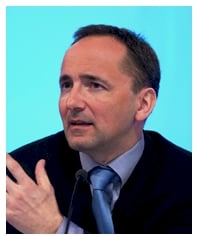 SAP co-CEO Jim Hagemann Snabe
SAP did not have an easy time before the Great Recession started, struggling with getting its Business ByDesign online applications out the door, and caused a kerfluffle with its customers when it planned a big maintenance hike on its software in the summer of 2008.
The idea was to move all customers from standard annual support contracts, which were set at 17 per cent of initial software license fees, to enterprise contracts, which were pegged at 22 per cent. This Oracle-like maneuver went down like the Hindenberg with SAP shops, and Plattner, Apotheker, and his co-CEO, Henning Kagermann, took a lot of heat for the price hikes.
The intellectual property lawsuit between SAP, its TomorrowNow third party software support unit, and Oracle was also an embarrassment during the Apotheker years and continues to this day as the matter is not yet resolved.
SAP has been ordered to pay Oracle $1.3bn in damages last November, and was subsequently ordered to pay interest on the award as well. SAP is appealing the damages award, but not the decision of the court in the lawsuit that TomorrowNow did pilfer Oracle's tech support documents and software patches as part of its software support operations.
Only three months after sharing the helm at SAP, McDermott and Hagemann Snabe raised some eyebrows with the $5.8bn acquisition of database maker Sybase, which has given the software giant some in-memory database technology that has been subsequently deployed in the HANA appliance for SAP applications as well as improved support for mobile devices with its applications.
SAP is still digesting the Sybase acquisition and that deal has undoubtedly helped pad its financials, but the main thing that has helped McDermott and Hagemann Snabe keep their jobs and now get extended contracts is that the global economy has recovered and SAP's share price has nearly doubled since the doldrums of early 2008.
Equally importantly, SAP's revenues in 2010 rose by 16.8 per cent to €12.5bn and gross income was up 20.6 per cent to €8.6bn. In the first quarter ended in March, SAP's software license sales rose by 26 per cent to €583m, with overall sales rising 20 per cent, to €2.33bn. Profits after taxes were only up 4 per cent, to €403m, however, so there is still some heat on the co-CEOs to bring more money to the bottom line. ®