Toshiba is setting up development centres in Ome, Tokyo, to research advanced disk drive technology and hopefully increase disk drive capacities.
One is an HDD Advanced Technology Centre looking at speeding up the development of higher areal density technology. The other is an HDD Manufacturing Technology Centre, and it will work on the manufacturing capabilities needed to productise higher areal density technology.
Tosh is looking at energy-assisted technology, known as HAMR for Heat-Assisted Magnetic Recording, and bit-patterned media (BPM). Both technologies aim to shrink the size of a recorded one or zero on a disk's surface and prevent it losing its state through temperature fluctuations or influences from nearby bits. Both these things become more prevalent as the size of the recorded bit shrinks.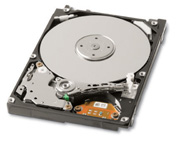 Toshiba 2.5-inch, 400GB HDD
Current perpendicular magnetic recording (PMR) technology has a physical areal density limit, Tosh says, of 1.6Gbit/mm2 (1Tbit/in2), beyond which either HAMR or BPM will have to be used. The transition to either technology looks likely to be very expensive in terms of new manufacturing machinery.
Tosh is partnering with TDK, which makes read/write heads, and Showa Denko, which makes disk drive media, in the Advanced Technology Centre. The centres should open on 16 July.
We have not heard much about this expensive transition from PMR to either HAMR or BPM technology since a Storage Technology Alliance was announced last year, and since a recent wave of disk drive vendor consolidation was announced. Seagate is buying Samsung's HDD business and Western Digital is buying Hitachi GST. This leaves just three HDD vendors worldwide: Seagate; Western Digital, with around 80 per cent of the industry; and Toshiba, which has bought Fujitsu's HDD business.
By setting up these two centres, Toshiba "expects to develop stable manufacturing methods for future cutting-edge HDDs and to achieve the very earliest launch of differentiated products." ®