Culture Minister Vaizey on Google, P2P filesharers and website-blocking
'There is no conspiracy'
---
Comment Culture Minister Ed Vaizey shed some light on the murkier corners of the Digital Economy Act in a speech yesterday. He swung out at "music industry armchair critics" and BT, shed some light on industry web-blocking discussions, and gave an indication on what's to come.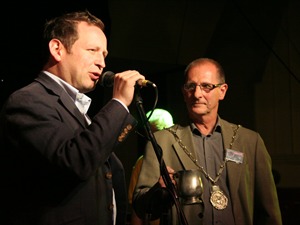 Ed Vaizey opening a real ale and jazz festival last month
The cosy days were over for the music industry, he said, speaking at the BPI's AGM.
"We are moving into enlightened self-interest territory. The music industry must embrace a state of continuous change, and that can be uncomfortable. Most in the industry now accept that."
Vaizey declared himself a strong supporter of copyright, and said he was unimpressed by the argument that it's "an outmoded conspiracy designed to put money into corporate interests" that conspire against real artists.
"Supposedly you can't be a real artist and make real money," said Vaizey.
Yet the minister argued that the music economy had a vital role to play in finding and promoting talent, one preferable to TV talent shows, or relying on internet virals.
"No one is saying it's for the best motives, but [without the industry] many talented voices would not have been heard against the competing crowd.
"Some talent will undoubtedly emerge from the online cacophony. Some might be lucky enough to be taken under Simon Cowell's wing – and good luck to them. But 99 per cent of the time, it takes real investment. Who does that? It's certainly not the online music industry critics."
Who did he mean? We gather that Vaizey met the Open Rights Group yesterday morning, and hadn't been impressed by the campaigning group, which seems stuck in permanent shouty student mode. He is more convinced by the economic argument, one the BPI was happy to promote yesterday, that British music punches far above its weight on the global stage.
But most people, he thought, weren't freetards making a political crusade out of not paying for stuff: they just want music, and if the industry operated in "enlightened self-interest", it would find a way to offer them services.
"ISPs have their role to play to help consumers find legitimate content. Most people do not infringe – they're looking for ways to find music. Most of those who do infringe can be made to stop, as long as they feel they are not losing out. That student could become your customer for life."
Amen to that bit.
He expressed frustration that ISPs were spending millions on fighting the copyright wars, rather than innovating. Yesterday Virgin Media launched a special Spotify service that also works through the set-top box.
"It would be nice if BT put as much effort into creating a fantastic music offering for its customers as it does trying to overturn an Act of Parliament."
He also warned the industry against picking on music buyers.
"Consumers' reasonable use of an iPod shouldn't be something we discriminate against."
Vaizey also explained his roundtable strategy, which may see two sections of the DEA replaced with voluntary self-regulation.
'There is no conspiracy'
"One thing government is good at is bringing people together. I've found that in discussions in a neutral venue, people are more polite in front of ministers. Government also has a responsibility for setting the legislative framework and making sure it's fit," said the minister.
"P2P file sharing is not the only threat. We set up the Working Group on site-blocking and it has done some promising work. What kicks off this huge conspiracy theory is that 'voluntary' is misleading. It's about working within the existing law to block sites that are serial infringers. It's about trying to speed up the process to agree on the most notorious sites and have it fast-tracked.
"Some ISPs to put it bluntly are more up for it than others. You can guess who's up for it."
Vaizey revealed one big reason why he wants ISP/music industry self-regulation. It's to get Brussels off his back.
Tory chief advisor Steve Hilton was recently reported to be "shocked" to discover how little legislation is now written at Westminster, and how much that originates in Brussels is now shunted through Parliament to be rubber-stamped. Much of this, such as rights for convicted criminals, or privacy rights that are abused by celebrities, creates a public backlash which is blown back at ministers.
"I want self-regulation and industry solutions to head off problems before they head up the political agenda," said Vaizey. Although he said he found the EU more pro-business than before, he told one industry group government affairs executive:
"I'm going to rely on you to give me warning. And if it cocks up, it's all your fault," he joked.
Speaking to BPI chief executive Geoff Taylor in a Q&A that followed his keynote, Vaizey detailed some of the voluntary measures he expected search engines to take.
Google had appeared to give the promise to rank legitimate music sites above pirate sites, said Taylor, but hadn't followed through.
Vaizey said that Google had made pledges in three areas: rogue sites using its AdSense program; Predictive Text, "which they claim to have changed", according to Vaizey; and organic search.
"I do think it's right that illegal sites are not prioritised over legitimate sites. Google will say that's a user-generated list."
Vaizey hinted that the landscape would change as the US stepped up its campaign against piracy. "Two years ago, the President appointed a copyright czar, and we're seeing results come from there. A lot of these companies are in America. We'll see change come out of there which will have a significant impact on Europe." ®