HP may replace 3PAR hardware
Rumour mill grinds out another one
---
Updated El Reg is hearing that HP will replace its flagship 3PAR T- and F-Class storage arrays with new, more powerful hardware next quarter.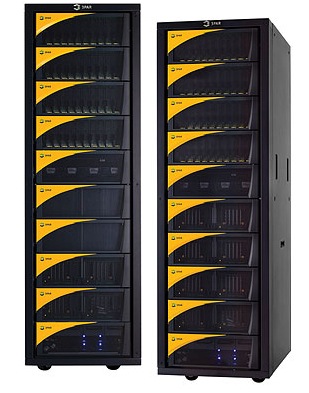 HP 3PAR T-Class array
The current 3PAR arrays use X86 processors plus 3PAR's third-generation ASIC hardware to speed up array operations and increase the array's responsiveness and utilisation.
We understand that the new hardware will involve dual ASIC controllers plus support for SAS drives. The current InServe operating system will be used. There is a view that 3PAR's software is stronger than its hardware, and this refresh will remedy that imbalance.
This hardware refresh will enable the new 3PAR arrays to compete at higher levels within the enterprise and may take sales currently satisfied with entry-level P9000/XP arrays sourced from Hitachi.
Our understanding is the the new arrays won't impinge on P6000/EVA sales.
There will be an announcement in the fourth quarter of this year with products shipped in 2012.
Tom Joyce, HP Storage VP for marketing strategy and operations, said: "We do have an aggressive roadmap for 3PAR. We have executed against it very effectively since closing the acquisition and completing the integration. We have delivered a lot of new capabilities already this year. At this point in time I cannot comment on the information that you received, but I would like to make it clear that we do not have any plans to eliminate the F series or the T series." ®