HTC ChaCha Qwerty Android smartphone
Facebook favourite?
Review If there is such a condition as telephonic incontinence then HTC is clearly a sufferer, as it churns out a handset for just about every conceivable demographic. With the ChaCha, the company is focusing on text warriors with a hard Qwerty keyboard and some social networking tweaks.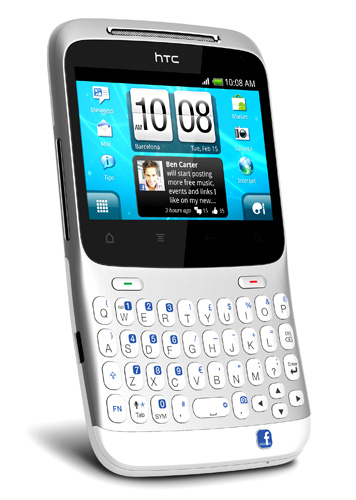 Upbeat performer: HTC's ChaCha
This Android 2.3 smartie is a funky frolic of a phone with a slimline form factor (114 x 65 x 11m and 124g) that curves in the middle to give it an ergonomic lift in the palm. Its white rubberised plastic and brushed aluminium casing give it a zesty modern feel. While the top half is typically Android – with the four familiar control buttons nestling beneath the touch screen – the 40-key Qwerty keyboard that takes up the lower part looks decidedly different for a Googlephone. BlackBerry users may feel a certain déjà vu, however.
The keys are made of HTC's comfortingly tactile rubberised plastic, and each one is raised proud of the casing. They're easy to find and press, both with the tip and the flat of the thumb, and offer good feedback with reassuring clicks for each press. They're nicely spaced too, so they're just as easy to use with two thumbs as one.
While there's plenty of room for the keyboard buttons, the same can't really be said for this diminutive touchscreen. Unusually for an Android phone it's essentially landscape rather than portrait format, with its so-so 480 x 320-pixel resolution crammed into a 2.6in display, which at least helps it to look a little sharper than it would on a bigger screen.