Airport screener stuffs stolen iPad into (own) trousers
Luggage larcenist admits $50K in nicked gadgets
Although US Transportation Security Administration screeners are encouraged to caress others' trousers, one blue-shirted crotch watchmen used his own as a temporary cache for an iPad he'd bagged from a traveller's bag.
TSA employee Nelson Santiago was spotted by a Continental Airlines employee as he was stuffing said Cupertinian foundleslab into his pants when inspecting luggage at a Florida airport.
The county sheriff's office told the Broward–Palm Beach New Times that after being arrested, Santiago admitted to having stolen $50,000 worth of kit in the past six months – "computers, GPS devices, video cameras, and other electronic merchandise".
Santiago was a marvel of efficiency: he'd photograph the equipment and upload the images to unnamed web-sales sites while still at work. Police told the B–PBNT that he would "typically" sell his booty before his shift was over.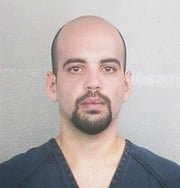 Nelson Santiago
Speaking of booty, the mass and circumference of Santiago's was not noted, but one can only assume that to conceal an iPad in his trousers, the now-ex-TSA employee cannot possess a fundament that might be deemed sylph-like.
Santiago may be facing grand-theft charges, but he's lucky to live in a society unlike the world of Gilbert and Sullivan's "More Humane Mikado", in which the punishment fit the crime. If that were the case, Santiago's felonious trouser-stuffing might be aptly punished by a enforced bout of ferret-legging. ®