Adaptec adds DRAM cache to entry-level RAID
It's like performance-enhancing drugs. Kind of
DRAM-caching boosts entry-level Adaptec RAID controller performance past software RAID and cache-less host bus adapters.
Adaptec, the adapter company that vanished down the Steele Partners plughole, exists as a RAID controller operation and brand inside PMC-Sierra. And now it has announced the "Adaptec by PMC family of Series 6E RAID Controllers", which are entry-level controllers given a performance-enhancing drug – DRAM cache.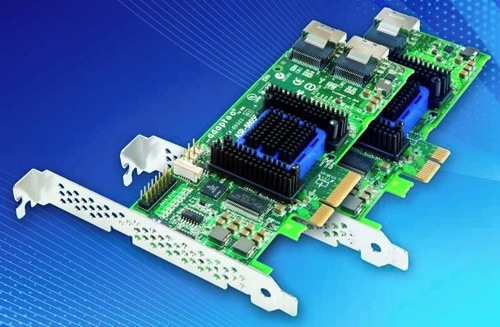 Adaptec by PMC Series 6E RAID controllers
Jared Peters, the general manager and VP of PMC-Sierra's channel storage division, said: "The Series 6E outperforms software-based HBAs and SATA controllers and is the first true hardware 6Gb/s SATA/SAS RAID controller with on-board DRAM cache for the entry-level market segment with this capability."/p>
The 6405E has four ports, SAS 6Gbit/s RoC ones, while the 6805E has eight.
The two cards have an LP/MD2 form factor and PCIe host interface, x1 for the 6405E, and x4 for the 68-5E – giving it higher throughput. They both have 128MB of DDR2-800 RAM and are compatible with other Adaptec Series 6 RAID controllers. These cards should fit right into customers' existing Adaptec RAID card deployments.
They are available from Adaptec distributors and resellers, now with suggested retail pricing ranging from $200 to $275. ®