ISS and Atlantis crews face 'daunting' box-shifting job
'Nauts must shift 4 tons of shopping, 2½ tons of station bins
---
The combined crews of the International Space Station and space shuttle Atlantis are facing a "daunting" box-shifting job, following the successful transfer of the Raffaello multi-purpose logistics module from the space shuttle's cargo bay to the orbiting outpost's Harmony node.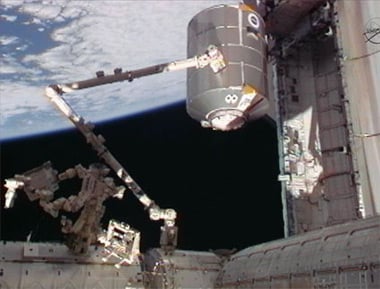 Astronauts Doug Hurley and Sandy Magnus moved the module using the station's Canadarm2 (see pic), and following leak checks to ensure a sound seal between Raffaello and Harmony, crew members were able to venture inside the 21ft long space container yesterday afternoon.
They now just have to empty Raffaello of "9,403 pounds [4.26 metric tonnes] of spare parts, spare equipment, and other supplies - including 2,677 pounds of food - that will sustain space station operations for a year".
That done, they'll then pack it with "more than 5,600 pounds [2.54 tonnes] of discarded station gear" for return to Earth.
ISS Expedition 28 members Mike Fossum and Ron Garan, meanwhile, are due to venture outside today for a six-and-a-half hour EVA. They are not now threatened by the remains of Soviet satellite COSMOS 375, as NASA previously feared, and the ISS will not have to be manoeuvred to avoid a piece of the destroyed Cold War anti-satellite weapons testing kit.
NASA explains that during their excursion, Fossum and Garan will "retrieve a failed pump module from an external stowage platform and stow it in Atlantis' cargo bay for return to Earth, and "transfer the Robotic Refueling Mission experiment from the shuttle bay to a platform on Dextre, the Special Purpose Dexterous Manipulator".
The pump in question is the troublesome ammonia unit which failed at the end of July last year. After putting up a bit of a fight, the device was replaced by spacewalkers Tracy Caldwell Dyson and Doug Wheelock.
The Robotic Refueling Mission (RRM) "demonstrates and tests the tools, technologies and techniques needed to robotically refuel satellites in space, even satellites not designed to be serviced". NASA has more on RRM here, but summarises it's "expected to reduce risks and lay the foundation for future robotic servicing missions in microgravity".
For the latest on Atlantis' swansong STS-135 mission, click here. ®