Microsoft is re-hatching its plan to accelerate retail store expansion in the US before turning its sights on the rest of the world.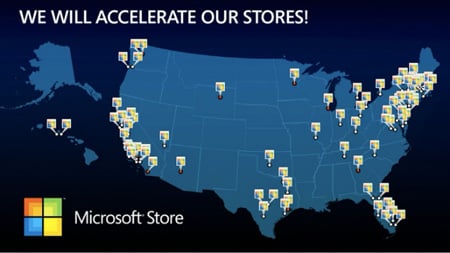 Store locator: Microsoft's retail expansion in the next three years
The first iteration came in 1999, when Microsoft set up a shop in San Francisco – but efforts were fairly short-lived as it pulled the plug around two years later.
Talking to attendees at the Worldwide Partner Conference, COO Kevin Turner said Redmond's 11 outlets in the US were giving it a better handle on "addressing the consumerisation of IT".
"It's helping us to transition from thinking about our customers to thinking like our customers. And giving us that direct customer feedback is what we're learning and getting from our stores," said Turner.
"We're going to open up 75 more stores over the next two to three years and continue to bring our stores outside the US as well," he said.
Turner quipped that on a visit to Latin America, he was "shocked" to discover an Apple dealer flogging Windows 7 on Mac hardware.
"Now, that should tell all of you a lot about the importance of having a great OS. Even the Apple franchise stores think so," he said.
Redmond has got a long way to go before it can assemble the 320 retail stores Apple has put together worldwide, or before it has a battalion of fanbois camping outside overnight in anticipation of product launches. ®
Similar topics