Scientists snap amazing technicolour dreamtoad
Lost, never-photographed rainbow batrachian rediscovered
---
Determined Malaysian scientists have pulled off a bit of a blinder in the search for lost amphibians, by getting the first snaps of the elusive Borneo rainbow toad.
Ansonia latidisca was last seen in 1924 by European explorers, and was until now recorded only in sketch form. Responding to an Conservation International call to hunt for the world's "Top 10 Lost Amphibians", Indraneil Das and colleagues from the University of Malaysia, Sarawak took to the peaks of the Gunung Penrissen range of Western Sarawak in search of their prey.
After months of fruitlessly scouring the forest at lower altitudes, the team decided to move move uphill, and were rewarded when graduate student Pui Yong Min spotted one of the leggy toads up a tree.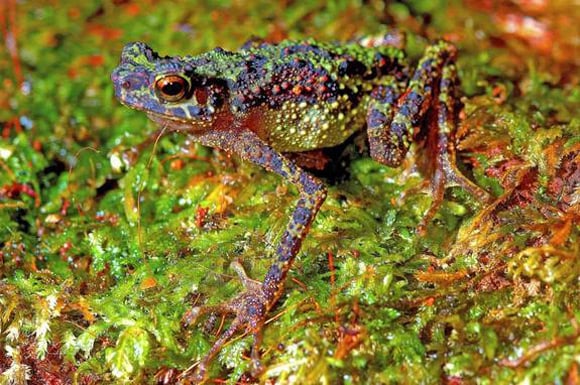 Conservation International's Dr Robin Moore, the man who launched the "Global Search for Lost Amphibians", was understandably chuffed by the rediscovery. He enthused: "To see the first pictures of a species that has been lost for almost 90 years defies belief.
"It is good to know that nature can surprise us when we are close to giving up hope, especially amidst our planet's escalating extinction crisis.
"Amphibians are at the forefront of this tragedy, so I hope that these unique species serve as flagships for conservation, inspiring pride and hope by Malaysians and people everywhere."
Ansonia latidisca is only the second of the 10 lost amphibians to resurface. The other is the Rio Pescado Stubfoot Toad (Atelopus balios) of Equador, according to this report. ®