Product Round-up The iPod can take credit for creating an entirely new market for compact speaker systems, yet iPod sales are now starting to taper off as people move their music onto smartphones and tablets.
No one wants their phone or tablet to be out of action while it's docked inside a speaker system, so manufacturers are now adding wireless capabilities to their speaker systems too. Now you can stream songs from your handset even though it stays in your pocket.
Bluetooth is practically ubiquitous among smartphones and tablets, so that's the main technology currently being used for wireless speakers, but we're also seeing the higher-quality Apt-X codec starting to gain ground too, along with Apple's AirPlay, which claims to provide 'lossless' audio quality over your home Wi-Fi network.
Altec Lansing inMotion Air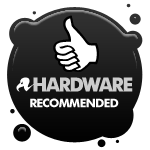 The inMotion Air is one of the cheapest speakers in this group, but it provides good sound quality and some handy features. The speaker doesn't have an iPod dock at all, with only a solitary 3.5mm line-In socket providing a wired connection. Instead, it uses Bluetooth to connect to most mobile devices, along with support for the Apt-X codec for those devices that support it. There's also a separate USB dongle to provide wireless connectivity with Macs and PCs.
The audio quality's very good for such a compact device, with firm bass and enough volume for a dinner party or summer BBQ. It's got a rechargeable battery too, and is light enough to easily pick up and carry from room to room.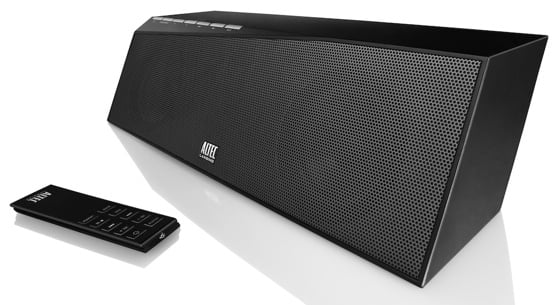 Audyssey South of Market Audio Dock

Audyssey brings its experience of high-end audio systems to this impressive home speaker system. The distinctive pedestal design houses side-facing woofers and tweeters, enabling it to fire a really rich, solid sound into the air all around it. There's a small dock on the front for an iPod or iPhone, and it also includes a microphone so that you can use it as a speakerphone, as well as audio input and output so that it can be used with VoIP applications on a desktop computer. It's a classy bit of kit but, at over £350, still a bit pricey for what it delivers.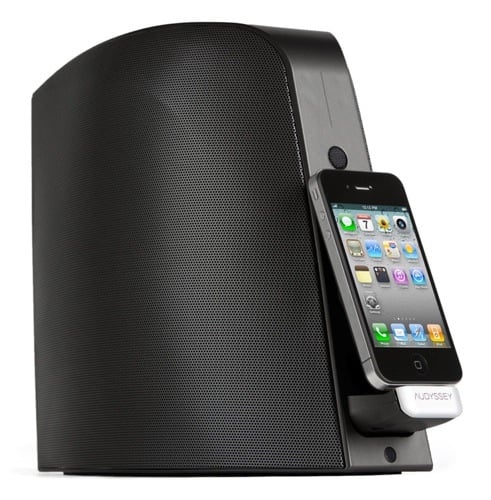 Reg Rating 80%
Price £355
More info Audyssey