Toshiba gets bit-patterning between its teeth
HAMR may come too
---
Comment Bit-patterned media (BPM) is emerging as a key hard disk drive (HDD) technology focus for Toshiba.
Toshiba's two new advanced technology centres are looking at future HDD technologies such as bit-patterned media (BPM) and heat-assisted magnetic recording (HAMR).
According to the general manager of the Advanced Technology Centre, Kotaro Yamamoto, Toshiba's initial areal density target for first generation BPM is 2.5Tbit/in2 to 5Tbit/in2. He thinks BPM has the potential to achieve an areal density beyond 5Tbpsi.
In comparison, current leading-edge product HDDs have 625Gbit/in2 areal densities, giving us 500GB 2.5-inch platters and 1TB 3.5-inch platters, indicating BPM could give us drives with 4 to 8 times more capacity; that's 4TB to 8TB 2.5-inch drives and 12TB to 24TB 3.5-inch drives, assuming 2 and 3 platters respectively.
Yamamoto-san said: "BPM is the future media technology that will achieve a better signal to noise ratio and thermal stability for higher areal density. HAMR is the future write head technology [that will] enhance ... write ability for narrow data [tracks]."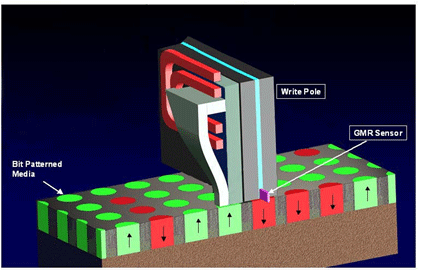 Bit-patterned media and head (Seagate)
We have understood that BPM involves putting an insulating doughnut, as it were, around the magnetic grains comprising a bit so that they are less receptive to malign state-changing influences from neighbouring bits. But Toshiba says BPM will enhance the bit's resistance to temperature fluctuation-caused alterations in the recorded bit state, one or zero, meaning a magnetic polarity of one direction or another.
We have also understood that HAMR is being considered as a means of enhancing a bit's resistance to such temperature fluctuation-induced changes by only enabling the bit's magnetic state to be changed once its temperature has been raised above a set level.
DTM could involved setting up insulating barriers between narrower tracks than are used currently to prevent cross-track interference. Toshiba sees HAMR being used as part of the DTM technology set.
Asked about shingle media recording (SMR), Yamamoto-san said SMR is a: "feasible technology to extend the current perpendicular recording technology. The only technology concern is [the] performance penalty. Because SMR needs sequential writing, random IO performance will degrade."
Despite this: "Some of the HDD market will accept SMR."
In general then, for Toshiba, BPM is not an alternative to these "assist recording technologies" such as HAMR and SMR, and could be used with them.
Yamamoto-san said some of the processes used to create bit-patterned media would also be used to create discrete track media (DTM) but there is no indication Toshiba is investigating DTM technologies at present.
Toshiba is not working with either Seagate or Western Digital on BPM technologies and this raises a question about how effective and widespread the activities of the hard disk drive industry Storage Technology Alliance are.
Yamamoto-san said Toshiba is targeting 2016 to introduce BPM technology drives. We might expect to see 4TB, 2-platter, 2.5-inch disk drives from Toshiba then. ®