So popular did our recent parmo versus poutine post-pub nosh deathmatch prove that we received a veritable banquet of emails demanding we make the recipe guides genuinely cut-out-and-keep.
No problemo, and you can help yourselves to servings of parmo and poutine in a handy pdf format here and here (Both 8.76451 petagig PDFs. May contain traces of nuts. Your statutory rights will certainly be affected. Please get the permission of the person monitoring your heart before opening).
Try this tasty appetiser of just what you're getting for your absolutely no money whatsoever: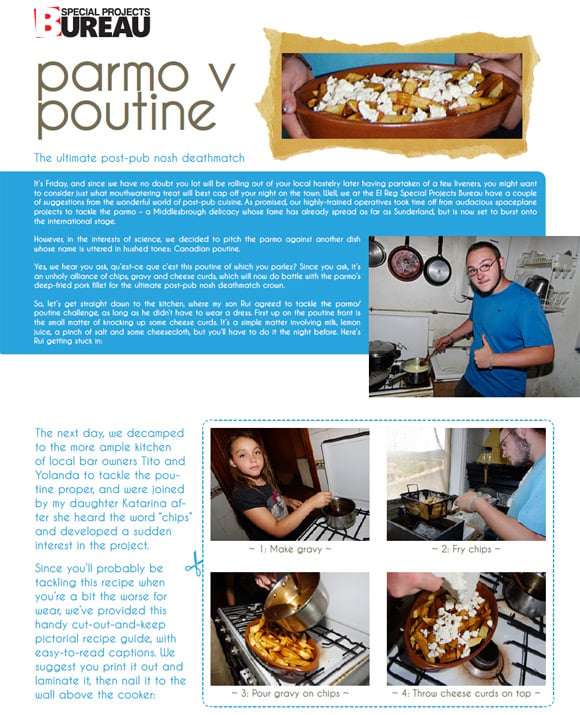 Of course, you'll have to do the actual cutting out and keeping yourselves. We suggest you laminate the pictorial recipe guides and nail them to the wall above the cooker, but also advise you to do this before you hit the pub. Anyone who's ever tried to laminate* after ten pints of ale will agree this is the correct order of business.
And speaking of the boozer, we've decided to do a few more culinary deathmatches after checking out your suggestions for further heart attacks on a plate. If there's something you'd really like us to knock together, let us know. ®
Bootnote
*This is not a Special Projects Bureau euphemism, so resist the temptation to post "yeah, I had eight pints and laminated my other half" comments.
Sponsored: Webcast: Simplify data protection on AWS