EMC is replacing its VMAX ControlCenter management software, likened in the past to "a royal PITA", with ProSphere, positioned as scale-out block storage resource management.
EMC says it doesn't think a single storage resource management product covering all its arrays is a good idea. Chuck Hollis, EMC's VP for technical alliances, says that EMC's plan is to have UniSphere for dual-controller, general purpose arrays such as VNX and CLARiiON; a scale-out NAS resource manager for Isilon; a scale-out cloud one for Atmos; and, now, ProSphere for VMAX.
About ControlCenter, he says: "To be frank, it has had its challenges."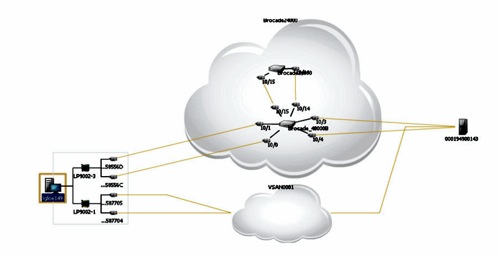 ProSphere end-to-end view
ProSphere has been designed to work with virtualised servers and in a cloud-style way, with storage delivered as a service. It supports federated storage and provides so-called end-to-end views, regardless of asset location, from servers to storage, with drill down.
ProSphere can be used by IT storage specialists to manage Symmetrix, DMX, and VMAX arrays, including the VMAXe, plus VNX and CLARiiON arrays.
It starts from a basis of having no agent, unlike ControlCenter, and is installed as a virtual appliance. When installed, it will discover the host data centre VMAX infrastructure automatically. Generally this takes place in an hour but eight hours or more might be required for larger infrastructures.
Hollis says: "ProSphere gets up and running with an absolute minimum of fuss and resources. A big departure from ControlCenter..."
The product provides near real-time monitoring and analysis capabilities for the storage resources it manages. It supports "up to 1.2 million volumes, 36,000 ports and 18,000 hosts as part of a single logical domain."
Any storage entity managed by ProSphere can be put in a group, a so-called Smart Group, and policies applied to group members. Typically objects sharing characteristics would be placed in Smart Groups.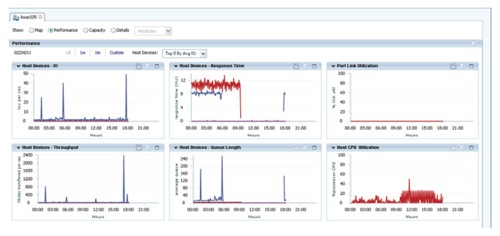 ProSphere monitoring display
Compared to ControlCenter, up to 75 per cent fewer physical servers are needed to run ProSphere. Those freed-up servers can be reallocated to run applications.
Single pane of glass and roadmap
ProSphere has a highly graphic interface, but it is not, yet, a single pane of glass for managing the Symm, DMX, VMAX and VMAXe environments, although it will probably become that.
Hollis implies pretty directly that Symmetrix Performance Analyzer will be integrated into ProSphere in the future as will the Ionix Configuration Advisor.
ProSphere will also get the ability, we understand, to support agents where they are needed for security purposes. Hollis says it will extend support to non-block EMC environments and non-EMC arrays.
Over time, the product will increase its monitoring and alerting functionality and extend its capacity, forecasting, planning and reporting tools for physical capacity and storage performance according to Hollis.
Here's an EMC ProSphere datasheet (pdf) for reference. Hollis' blog provides a great overview of ProSphere.
ControlCenter users with a maintenance contract can upgrade at no charge from the end of July. ®